Date:
November 2, 2012
Contact:
Stephanie Loeb Werntz
, 610-783-1013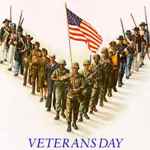 King of Prussia, PA: Valley Forge will commemorate on Sunday, November 11, the Continental Army's legacy, and honor all of America's veterans and active military through music, living history, and special guest speakers. Beginning at 11 a.m. the ceremony will take place at the National Memorial Arch (tour stop #3). Adam Messinger, U.S. Army Veteran and U.S. history instructor at Valley Forge Military Academy, and Ashley Shimer, graduate student of public history at West Virginia University will speak on the contributions and selfless acts of the men and women veterans of our nation. Howard T. Reitenbaugh, National Coordinator of Bugles Across America, will play Taps during the concluding wreath laying ceremony, coordinated in part by The Friends of Valley Forge Park.
Living history interpreters and volunteers will bring to life the story of America's first veterans at the Muhlenberg Brigade (tour stop #2) from 12 p.m. to 3 p.m. Ranger-led walks will depart from the Visitor Center at 11:20 a.m. and 1:20 p.m. and continue ¼ mile on the Joseph Plumb Martin trail to the Muhlenberg Brigade. Ninety minute guided Trolley Tours at 12 p.m. and 2 p.m. will make extended stops at the Muhlenberg Brigade and Washington's Headquarters. Veterans will receive 10% off tours and merchandise in The Encampment Store, located on the first floor of the Visitor Center. Veterans and their families are invited to a reception in their honor in the park's Education Center following the ceremony.
Parking for the ceremony is available at the National Memorial Arch. Additional parking is available at the Wayne's Woods picnic area ¼ mile past the Arch.
Valley Forge National Historical Park is considered the birthplace of the United States Army. It was here that General George Washington's army, made up of many separate and distinct military backgrounds, was first trained under the command of General von Steuben and unified through his standardized method. Despite lack of supplies, hunger and disease, their spirit of liberty and desire for freedom kept them determined to persevere.