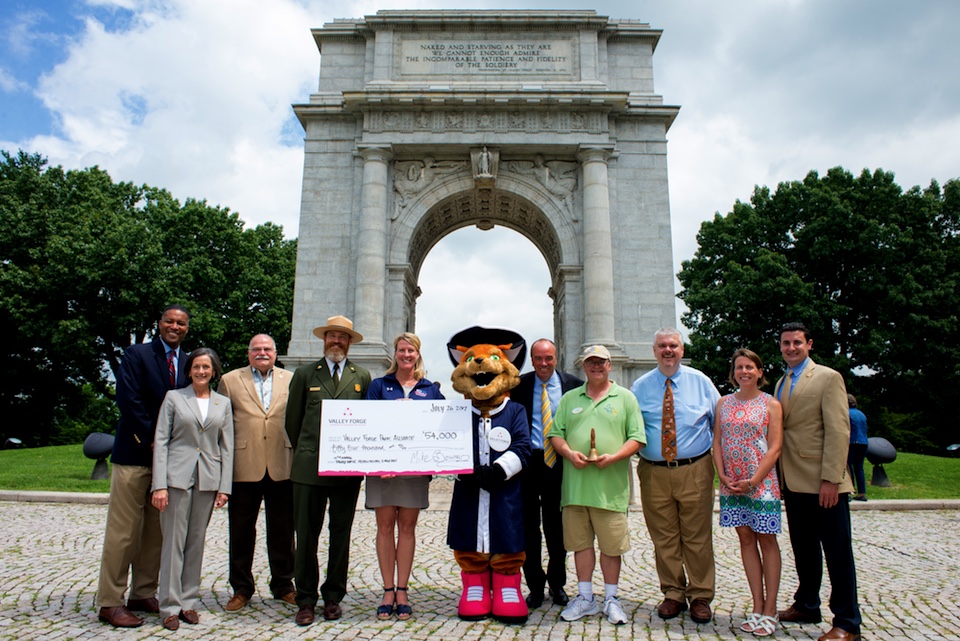 News Release Date:
July 26, 2017
Contact: Jonathan Parker, 610-342-5182
KING OF PRUSSIA, PA
– Today, the Valley Forge Tourism & Convention Board (VFTCB) presented Valley Forge National Historical Park with a $54,000 contribution to support ongoing improvements and future enhancements to the visitor experience in the park. The contribution is comprised entirely of proceeds from the 12
th
Annual Revolutionary 5-Mile Run
®
(Rev Run) and represents the largest-ever donation to the park during the 12-year history of the Rev Run.  
 "We're honored to receive this significant contribution and we consider ourselves fortunate to have a committed park partner like we have in the Valley Forge Tourism & Convention Board," said Superintendent Steve Sims. "As a two-time Rev Run participant, I look forward to utilizing this contribution to enhance the visitor experience within the park and also to seeing the race continue for years to come."  
"Valley Forge National Historical Park is one of the region's most visited destinations and we are thrilled to present our largest-ever donation to help support key programming and improvement projects in the Park with funds from this year's Rev Run," said Mike Bowman, president and CEO, Valley Forge Tourism & Convention Board.  
The $54,000 contribution will support five programs and projects in the park, including Historic Philadelphia Inc.'s "Once Upon a Nation" storytelling program, the design and fabrication of trailhead and overlook improvements for the Grand Parade trail system, new plantings and improvements for the garden entrance to the Visitor Center, a sustaining fund for future maintenance of Sullivan's Bridge, and new information panels along the trail from the Visitor Center parking lot.  
The VFTCB presented the contribution to Superintendent Steve Sims alongside elected officials, past partners and sponsors of the Rev Run, members of the Valley Forge Park Alliance and special guests under the National Memorial Arch located near the intersection of North Outer Line Drive and Gulph Road.
For additional information please contact us at Valley Forge National Historical Park, 1400 North Outer Line Drive, King of Prussia, Pennsylvania 19406 or
e-mail us
at vafo_superintendent@nps.gov