Kate Hammond named Superintendent of Valley Forge National Historical Park
Date:
January 25, 2012
Contact:
Rick Kendall, 215-597-0865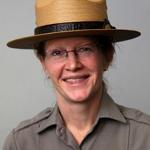 Philadelphia— National Park Service Northeast Regional Director Dennis R. Reidenbach has named Kate Hammond as the next Superintendent of Valley Forge National Historical Park in Pennsylvania.Hammond will also supervise the Superintendent of Hopewell Furnace National Historic Site in Elverson, Pennsylvania.Currently serving as Superintendent of Little Bighorn Battlefield National Historic Site in Montana, Hammond will begin her new assignment in early March.She replaces Mike Caldwell who was named Deputy Regional Director of the National Park Service Northeast Region last year.
"Kate's experience at Little Bighorn Battlefield has demonstrated her skill at bringing partners together to work towards a common vision," said Reidenbach. "Her skills as a manager will be a great asset in working with all of the partners in the Valley Forge area and in creating a cohesive, combined operation between Valley Forge and Hopewell Furnace."
"Valley Forge is an iconic and special place that continues to inspire Americans. I am honored and thrilled at the opportunity to work with park staff, park partners, volunteers, and the local communities around Valley Forge and Hopewell Furnace to protect both parks' resources and improve the visitor experience," said Hammond.
Hammond has been Superintendent of Little Bighorn Battlefield since 2009.During that time, she engaged stakeholders, tribes and partners in addressing long standing management challenges that have stymied the park for 30 years.Her work ensured that the park's nationally significant 150,000-item museum collection was protected from degradation due to poor storage conditions.She also initiated an alternative transportation feasibility study, oversaw the development of a new interpretive film, and significantly advanced baseline cultural and natural resource documentation.
Prior to her tenure at Little Bighorn Battlefield, Hammond completed the NPS Bevinetto Congressional Fellowship Program, a two-year developmental assignment in Washington, D.C. In the fellowship, she worked as a staff member for the House Natural Resources Committee for one year, followed by a year in the NPS Office of Legislative and Congressional Affairs.
As a project manager for the Park Service's Denver Service Center, Hammond oversaw design and construction of complex projects at park units throughout the western United States, including Grand Canyon National Park, Glacier National Park, and Point Reyes National Seashore.
Hammond has served as an interpretive planner and project manager for the Park Service's Harpers Ferry Center, a chief of interpretation at Amistad National Recreation Area in Texas and worked as a park ranger at Bandelier National Monument in New Mexico, Denali National Park and Preserve in Alaska, and Walden Pond State Park in Massachusetts. Before joining NPS, Hammond was a Peace Corps volunteer in Argentina, where she managed the interpretive program at El Palmar National Park.
Hammond is a native of Massachusetts. She has a bachelor's degree in history and environmental studies from Yale University and a master's in environmental management from the Yale School of Forestry.  She and her husband, Geoff, have two young children.
-NPS-
Last updated: February 26, 2015