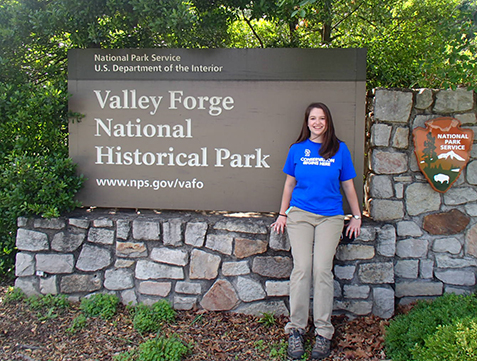 News Release Date:
September 28, 2015
Contact: David Rosehill, (610)783-1013
KING OF PRUSSIA – Cristina Ramirez, graduate of the University of Virginia, will help prepare Valley Forge National Historical Park and Hopewell Furnace National Historic Site for the National Park Service's 100th anniversary in 2016. Cristina is one of 70 energetic, young Centennial Volunteer Ambassador interns recently selected to spend the next year connecting local communities to parks through volunteer group service opportunities, starting with National Trails Day on June 6, 2015.
Ramirez has demonstrated an ability to recruit, coordinate, and manage volunteer work groups for National Trails Day, the July 4th Picnic in the Park, National Public Lands Day and Home School Day. She is taking a leadership role in developing local partnerships and programs utilizing the National Park Service's national partnerships, such as, the Boy Scouts of America, the Girls Scouts of America, the Young Men's Christian Association, and the Boys and Girls Club of America. This summer she helped kids from the Centro Cultural Latinos Unidos, Inc. in Pottstown, Pennsylvania discover the historic landscape of the Hopewell Big Woods, and find their park at Hopewell Furnace National Historic Site.
Cristina brings an innovative mindset and created a more inclusive and dynamic experience for park visitors and volunteers. She has been integral in helping facilitate the translation of key park media to Spanish, and developed new interactive activities such as the Find Your Park Photo Booth featured at this year's July 4th Picnic in the Park.
"Cristina plays a critical role in connecting people to the park," Valley Forge and Hopewell Furnace Superintendent Kate Hammond said. "We are excited to have her skills and experience on our Centennial team."
The Volunteer Ambassador Program is a partnership between the National Park Service and the Student Conservation Association (SCA) and supports the Department of the Interior's Play, Learn, Serve, Work Youth Initiative to expand educational, volunteer, and career opportunities for millions of youth and veterans on the nation's public lands.
"National parks offer an incredible opportunity for people to come together, and learn about these areas that have been set aside for their environmental and cultural importance," Ramirez said. "They also give a chance for a community to come together and give back, and I am looking forward to being a part of that."
SCA President and CEO Jaime Berman Matyas notes that in addition to its role in the Centennial, the volunteer ambassador program is an important part of SCA's leadership development curriculum."Transformative experiences like these yield crucial leadership skills and life lessons that empower these young people for lifelong success," Matyas said. "These service opportunities are also potent career pathways and, together, SCA and NPS are creating a workforce for the second century of national parks."
To learn more about the efforts of the Centennial Volunteer Ambassadors visit nps100sca.wordpress.com.
About Valley Forge National Historical Park. Valley Forge was the site of the 1777-78 winter encampment of George Washington's Continental Army. The park commemorates the sacrifices and perseverance of the Revolutionary War generation and honors the ability of citizens to pull together and overcome adversity during extraordinary times. For more information about the park, please visit our website at www.nps.gov/vafo or call 610-783-1099. Follow Valley Forge on social media: Facebook.com/ValleyForgeNHP, Twitter @ValleyForgeNHP, and Instagram @ValleyForgePark and share your photos and experiences.
About the National Park Service. More than 20,000 National Park Service employees care for America's 407 national parks and work with communities across the nation to help preserve local history and create close-to-home recreational opportunities. Learn more at www.nps.gov.