Citizen Scientists are invited to participate in the "Summer of Bugs" at Valley Forge National Historical Park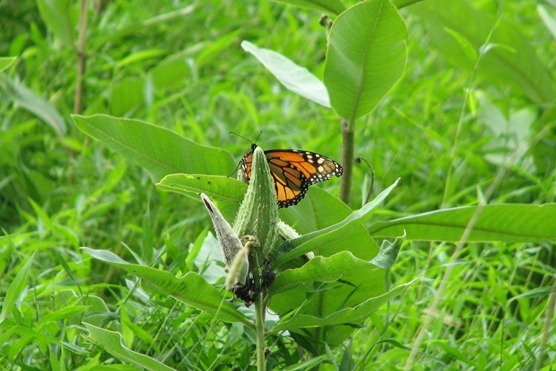 News Release Date:
May 9, 2014
Contact: Stephanie Loeb, 610-783-1013
Contact: Carolyn Belardo, 215-299-1043
Valley Forge, PA –Valley Forge National Historical Park and the Academy of Natural Sciences of Drexel University are partnering in the Summer of Bugs, a summer-long inventory of the park's terrestrial invertebrates, better known as land bugs. Together, the park and the academy invite those interested in learning about and contributing to the research to act as "citizen scientists" by observing and participating in two 24-hour BioBlitz events and a summer-long invertebrate "photoblitz." Activities are available for "scientists" of all ages and experience levels. The park will kick off the Summer of Bugs on May 30 with a 24-hour BioBlitz based in the park's Education Center. Base camp will be open to the public from 2:00 p.m. – 5:30 p.m. on Friday, May 30, and from 8:00 a.m. – 12:00 p.m. on Saturday, May 31 with a special photography workshop from 8:00 a.m. – 10:00 a.m. Follow the project this summer and share your discoveries by using the hashtag, #summerofbugs.
"The BioBlitzs will help the park collect data on a group of animals for which the park has very little information," shared Amy Ruhe, Biologist at Valley Forge NHP. "Terrestrial invertebrates represent our last major data gap. Conducting blitzs during two different seasons will provide the greatest opportunity to catalogue the variety of species in the park and enable more volunteers to participate in the activities."
All events are free and open to the public. Select events during the August BioBlitz require advanced registration and have recommended age and skill levels. For more information on the August BioBlitz and how to sign up to be a citizen scientist, visit nps.gov/vafo.
Spring BioBlitz, May 30-31
Academy experts and amateur entomologists will begin their 24-hour field search for terrestrial invertebrates at noon on May 30. Researchers back at base camp, the park's Education Center, will catalogue specimens and keep an ongoing count of species reported. Base camp will be open to the public for observation and conversations with the researchers from 2:00 p.m. – 5:30 p.m. on Friday, May 30, and from 8:00 a.m. – 12:00 p.m. on Saturday, May 31. At 8:00 a.m. Saturday the park will host a photography workshop featuring macro-photography and include an introduction to iNaturalist.org.
Invertebrate PhotoBlitz with iNaturalist.org
In addition to the BioBlitzs, park visitors can become citizen scientists by documenting their invertebrate observations throughout the summer at iNaturalist.org, an online species database for naturalists of all skill levels to share their observations. The entomologists at the Academy of Natural Sciences of Drexel University will help identify citizen observations and add the records to the Summer of Bugs inventory. Find the Summer of Bugs project online or download the iNaturalist app for quick uploads in the field.

The Academy of Natural Sciences of Drexel University is a world-class natural history museum dedicated to advancing research, education, and public engagement in biodiversity and environmental science. Learn more about the Academy at www.ansp.org.

For more information about Valley Forge NHP, please visit our website at www.nps.gov/vafo or call 610-783-1099. Learn about the park's upcoming programs and special events on the Schedule of Events page on our website. Continue the conversation on the park's Facebook, Twitter and Instagram @ValleyForgeNHP and share your photos and experiences. 
# # # 
Last updated: February 26, 2015