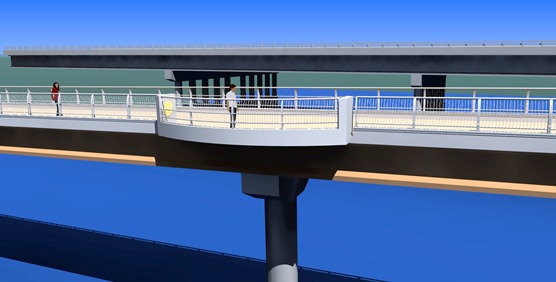 News Release Date:
May 8, 2014
Contact: Stephanie Loeb, 610-783-1013
Valley Forge, PA - The groundbreaking for Sullivan's Bridge, the new pedestrian/bicycle bridge across the Schuylkill River in Valley Forge National Historical Park, has been rescheduled for Wednesday, May 14 at 11:00 AM. The ceremony will take place on the construction site adjacent to the Betzwood Picnic Area. Senator John Rafferty, PennDOT Secretary, Barry Schoch, Valley Forge NHP Superintendent, Kate Hammond, and local officials will share their enthusiasm for the new construction. The public is invited to attend in their sneakers or boots (hard hats not necessary).
Sullivan's Bridge is a joint project of the Pennsylvania Department of Transportation, Upper Merion Transportation Authority, Upper Merion Township, West Norriton Township, Montgomery County, and Valley Forge National Historical Park. The bridge is scheduled to be completed in spring 2016.
The new construction will replace old Betzwood Bridge, which was demolished in 1995. Since then, walkers, runners, and bicyclists have used a narrow wooden outrigger along the busy Route 422 bridge to cross the Schuylkill River. Sullivan's Bridge will connect the north and south sides of Valley Forge and improve access to a network of regional trail systems, including the Schuylkill River Trail, the future Schuylkill River West Trail, Valley Forge's 26 miles of trail, the Chester Valley Trail and Patriot's Path.
"Sullivan's Bridge" was the winning name from The Friends of Valley Forge Park's bridge naming contest this past fall, chosen from among 252 entries. Major General John Sullivan, for whom the bridge is named, was the officer charged by General George Washington with building a bridge across the Schuylkill River during the 1777-78 Valley Forge winter encampment of the Continental Army. A marker in his honor is located along the River Trail at the site of his bridge, approximately ¼ mile upstream.
Updates to the Sullivan's Bridge project will be posted on 422Improvements.com.
For more information about Valley Forge NHP, please visit our website at www.nps.gov/vafo or call
610-783-1099. Learn about the park's upcoming programs and special events on the Schedule of Events page on our website. Continue the conversation on the park's Facebook, Twitter and Instagram @ValleyForgeNHP and share your photos and experiences.