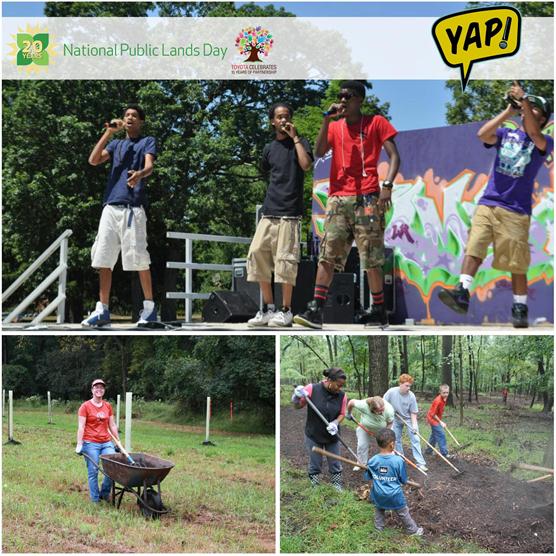 News Release Date:
September 16, 2013
Contact: Ernestine White, 610-783-1029
Contact: Stephanie Loeb, 610-783-1013
VALLEY FORGE, PA – Volunteers are invited to roll up their sleeves and get dirty and help to spruce up Valley Forge National Historical Park (NHP) on Saturday, September 28, 2013 in celebration of National Public Lands Day. Special musical guest, the New Bedford Youth Ambassador Program (YAP!) and the Young Friends Block Party and Fundraiser Cookout are also part of the day's celebrations in addition to the announcement of the "Name the New Trail Bridge" contest.
The annual event, now in its 20th year, is the nation's largest hands-on volunteer effort to improve and enhance the nation's 600 million acres of public lands. Valley Forge is proud to partner with REI for the 11th year for this important public event. Activities begin at 8:30 a.m. in the Visitor Center lower parking lot with walk-in registration and volunteer sign-in. Participants should dress in work clothes and shoes and bring work gloves.
Kicking off this years' event is a special musical performance by the New Bedford Youth Ambassador Program (YAP!) who will share a message about conservation and sustainability through their unique hip-hop style during the opening ceremonies at 9:00 a.m.. YAP! is a partnership between the National Park Service and 3rd Eye Youth Empowerment where teens communicate National Park Service themes through the creation of music and videos. The Friends of Valley Forge Park will then announce the winning name of the new trail bridge. The construction of the new pedestrian/bicycle bridge will begin this fall and is expected to open in 2015.
Following the opening ceremony, nearly twenty hands-on projects such as invasive plant and crayfish removal, trails maintenance, and tree planting, will give volunteers the opportunity to make a real difference in their neighborhood national park. Volunteers and visitors can also enjoy guided hikes, educational activities for youth, and an environmental expo. 
"We hope that volunteers who participate in this community event on National Public Lands Day will discover the value of this special place and will continue to stay connected to the park throughout the year by additional volunteering, joining The Friends of Valley Forge Park, shopping at The Encampment Store, or just enjoying the park recreational and historical resources," said Kate Hammond, Superintendent.
YAP! will return to the stage during the Young Friends Block Party and Fundraiser Cookout, also located in the lower parking lot from noon to 2:30 p.m.. The Young Friends of Valley Forge Park invite volunteers and visitors back for an afternoon of food, fun, and games as they celebrate another year of stewardship in our national parks. Make a donation and receive your choice of beef/veggie burger or hot dogs plus chips and a drink. Proceeds from the cookout support park initiatives and programs.
To volunteer, contact Ernestine White at 610-783-1029 or e-mail us.
To see a list of all National Public Lands Day sites, activities, contacts, and downloadable photos from past events, visit the media center section of www.publiclandsday.org.