Date:
September 27, 2011
Contact:
Phil Sheridan, 215-597-0865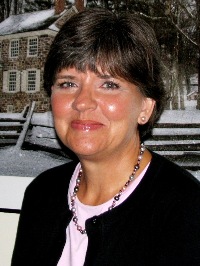 Barbara L. Pollarine has been selected Chief of Interpretation, Education and Partnership Development for the National Park Service Northeast Region. In her new role, she will oversee the interpretation and education efforts and partnership program in an area which annually serves 55 million visitors at seventy-eight parks across 13 states. Pollarine, currently the deputy superintendent of Valley Forge National Historical Park in Pennsylvania since March 2001, will begin her new duties in November.
"Barbara comes to the position at a critical time for interpretation and education, as we seek to engage visitors with cutting-edge technology while maintaining the traditional excellence of the National Park Service Ranger," said Deputy Regional Director for Operations Gay Vietzke. "But we'll only be successful by engaging other organizations in this effort, which is why we added the partnerships to her portfolio."
"I am happy to return to interpretation and education full time—the discipline has always been a primary interest no matter what position I have held," said Pollarine. "I look forward to joining the Northeast Region team as we help reinvent the field of interpretation to serve 21st century visitors."
The 34-year National Park Service veteran began her career at Independence National Historical Park in Philadelphia as an interpretive park ranger and later as interpretive specialist.Other positions included supervisory park ranger at Valley Forge, and as management assistant, Cuyahoga Valley National Park (Ohio) where she also served as assistant chief of interpretation.
In 2010, she served in a temporary assignment as acting assistant associate director for Partnerships and Visitor Experience in Washington, D.C.
Pollarine also served as a cooperative education student with the National Park Service while earning Bachelor of Arts in History from Temple University in Philadelphia.
She has served on the board of the Schuylkill River National and State Heritage Area since 2002, and on the Board of the Domestic Abuse Project of Delaware County since 2010.