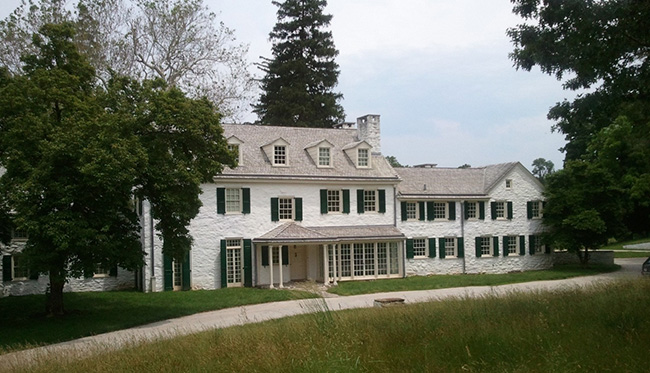 News Release Date:
May 7, 2015
Contact: Patrick (Pat) Madden, 610-783-1005
VALLEY FORGE, PA – The National Park Service has leased the Philander Chase Knox house and adjacent grounds to Valley Forge Park Events LLC for a ten year period.
Following a limited rehabilitation, which will include painting, furnishing, and ensuring ADA access;Valley Forge Park Events will operate the historic house as an event venue available for private parties including wedding receptions, and social and corporate events with up to 200 guests. As part of the lease, a large tent will be erected adjacent to the house and stay in place for the seven month event season beginning in April and ending in October of each year.
The house is located just off of Yellow Springs Road near the covered bridge over Valley Creek. Before becoming part of the park, it was owned by Philander Chase Knox, a lawyer, bank director and politician who served as United States Attorney General, U.S. Secretary of State, and a U.S. Senator from Pennsylvania in the early 20th century. 
Consistent with numerous public planning processes, the National Park Service leased the Philander Chase Knox house to generate income to preserve this and other sites within Valley Forge National Historical Park, and also to increase access to a house that is generally closed to the public. The park's library will remain within the house and will continue to be open to researchers by appointment.
Valley Forge Park Events is a company formed by The Party Center and Robert Ryan Catering and Design, both of Phoenixville, PA. Please contact Valley Forge Park Events at 610-679-6166 for more information about having an event the Philander Chase Knox house.Showings will begin on June 1, 2015 and the house will be available for events on July 1, 2015.
About Valley Forge National Historical Park. Valley Forge was the site of the 1777-78 winter encampment of George Washington's Continental Army. The park commemorates the sacrifices and perseverance of the Revolutionary War generation and honors the ability of citizens to pull together and overcome adversity during extraordinary times. For more information about the park, please visit our website at www.nps.gov/vafo or call 610-783-1099. Follow Valley Forge on social media: Facebook.com/ValleyForgeNHP, Twitter @ValleyForgeNHP, and Instagram @ValleyForgePark and share your photos and experiences.