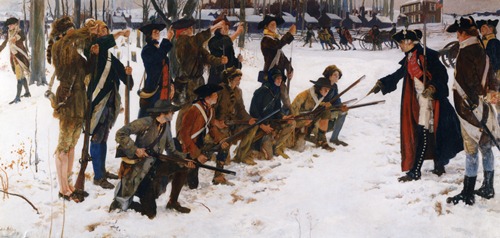 News Release Date:
March 20, 2014
Contact: Stephanie Loeb, 610-783-1013
Incomparable Patience and Fidelity
A unique living history reenactment at Valley Forge
Valley Forge, PA – The public is invited to spend a weekend with the Fourth Connecticut Regiment at Valley Forge National Historical Park. From dawn until dusk on Saturday March 29 and Sunday March 30, visitors canexperience a snapshot of life during the Valley Forge winter encampment and interact with historians and reenactors portraying the Fourth Connecticut Regiment and learn about army provisions and the dedication of the soldiery.
The real Fourth Connecticut Regiment kept detailed notes which were well preserved over the past 230 years, providing these historians and educators with first-hand accounts of life in the regiment- how they dressed, what they ate, the highs and lows of fighting in the war for independence.
Programs throughout the weekend include:
Saturday 8 AM – 5 PM
10:30 AM - Company March: Public is invited to fall in and march with the company from the Visitor Center to the Muhlenberg Brigade Huts
11:00 AM – Army Provisions: The challenges of feeding an army
12:30 PM – Fearsome Footwork: The Basics of Soldiering
1:45 PM – The Prosperity of our Arms: Musket and Marching Demonstration
3:30 PM – Cloathing the Troops: Care and clothing provisions for the Connecticut Line
Sunday 8 AM – 3PM
12:00 PM – Cleanliness and Appearance: The expectation of a proper appearance in formation
1:00 PM – Present, Fit for Duty:  The reality of serving at Valley Forge
1:30 PM – Company Exercise: Marching and Drilling
2:00 PM – Neatness and Purity of the Camp: Health and sanitation during the encampment
2:30 PM – Final formation: Roll call and dismissal of the troops
"Naked and starving as they are, we cannot enough admire the incomparable patience and fidelity of the soldiery, that they have not been ere this excited by their sufferings, to a general mutiny or dispersion."
General Washington to Governor George Clinton from Headquarters, Valley Forge
February 16, 1778
For more information about Valley Forge NHP, please visit our website at www.nps.gov/vafo or call
610-783-1099. Learn about the park's upcoming programs and special events on the Schedule of Events page on our website. Continue the conversation on the park's Facebook,Twitter and Instagram @ValleyForgeNHP and share your photos and experiences.