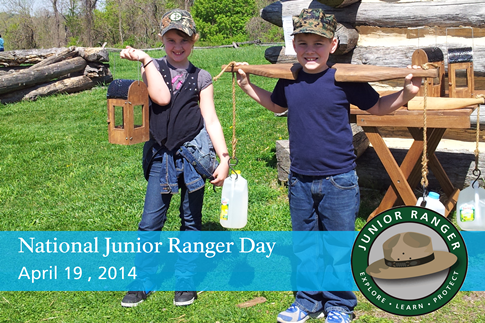 News Release Date:
April 9, 2014
Contact: Stephanie Loeb, 610-783-1013
Valley Forge, PA – National Park Week is an annual celebration and invitation to the public to re-connect with the 401 national parks across the country. Valley Forge National Historical Park will host a number of special events and programs for all ages throughout the week of April 19 – 27, providing plenty of opportunities for visitors to embrace this years' theme and "Go Wild!"
Saturday, April 19: National Junior Ranger Day
Kids of all ages are invited to explore, learn about, and protect the resources in our national parks. National Junior Ranger Day is designed to give children the opportunity to connect with the park in new and engaging ways, such as playing "Oh Deer!" a deer life cycle simulation game, touching fossils, carrying 18th century water yokes, and learning to draw with charcoal from a camp fire.
Programs will be ongoing from 10:00 a.m. to 2:00 p.m. with a graduation ceremony at 2:30 p.m. in front of the Visitor Center. New Junior Rangers will take the Junior Ranger Oath and receive their official Junior Ranger Badge. Programs will take place throughout the park; allow yourself plenty of time to visit each station. 

Tuesday, April 22: Earth Day Guided Bird Walk
Celebrate Earth Day by joining a guided bird walk. Program meets at 8 a.m. in the Artillery Park parking lot on East Inner Line Drive, lasts approximately 2 hours and covers 1.5 miles walking. Early season weather brings a good chance of seeing or hearing most of the park's resident woodpeckers, including the Red-Bellied Woodpecker, Northern Flicker, Yellow-bellied Sapsucker, and more.
Saturday, April 26: Landscapes and Structures Photography Program
Valley Forge's popular photography program kicks off its spring season during National Park Week. Photographers of all skill levels can learn about photography and the park's resources during this two hour program. Program meets at the Philander Chase Knox Estate at 8 a.m.
Sunday, April 27: Valley Forge Revolutionary 5-Mile Run ®
Go Wild for running during The Valley Forge Convention and Visitors Bureau's 9th Annual Valley Forge Revolutionary 5-mile Run ®. Proceeds of this USATF sanctioned race benefits Valley Forge National Historical Park, its trails and programs. The event also includes a 3-mile walk, 1.776 km youth fun run, and race expo and begins at 8 a.m. The Revolutionary Run Event begins is a fun way for the entire family to get out and get active! For more information and to register or sign up to volunteer, visit revolutionaryrun.org.
For more information about Valley Forge NHP, please visit our website at www.nps.gov/vafo or call
610-783-1099. Learn about the park's upcoming programs and special events on the Schedule of Events page on our website. Continue the conversation on the park's Facebook, Twitter and Instagram @ValleyForgeNHP and share your photos and experiences. 
# # #