Celebrate YOUR National Parks during National Park Week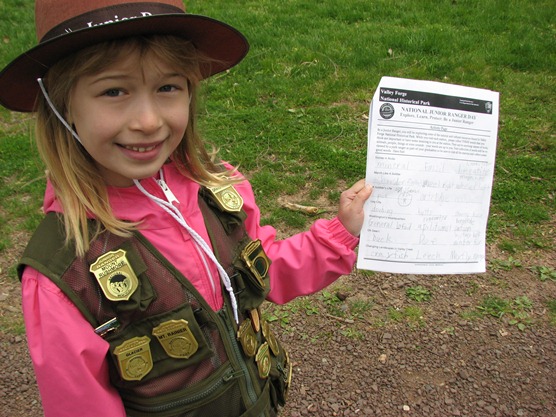 News Release Date:
April 16, 2013
Contact: Stephanie Loeb, 610-783-1013
VALLEY FORGE, PA - The annual and nationwide recognition of our national parks will be held during National Park Week, April 20-28, with a variety of special events and programs at Valley Forge National Historical Park. The week's theme, "Did You Know?" shows unlimited ways to capture the imagination of visitors or potential visitors and to entice everyone to learn a little more about what we do in parks and communities. Did you know that in 2012, more than 800,000 children became Junior Rangers on National Junior Ranger Day? Did you know that 2013 will be the first year the National Park Service will celebrate National Park Week with units in each of the fifty states?
Begin the week-long celebration on Sunday, April 21 at the 8th Annual Valley Forge Revolutionary 5-mile Run, 3-mile walk, and 1.776km Young Patriots Fun Run. Race proceeds directly benefit Valley Forge NHP. Registration information is available at revolutionaryrun.org. 
The following Saturday, April 27, Valley Forge will celebrate
National Junior Ranger Day
with a variety of hands on activities, games, and art from 10:00 a.m. to 2:00 p.m. at learning stations throughout the park. Participating children and their families will learn about Valley Forge's revolutionary history, geology, and natural resources. Ongoing programs will take place at the Visitor Center, Muhlenberg Brigade Huts, and Washington's Headquarters. A graduation ceremony for all new Junior Rangers will take place at 2:30 p.m. in front of the Visitor Center, where children will take the Junior Ranger Oath and receive their official Junior Ranger Badge. 
Throughout the day, visitors may also take part in a unique tasting experience from the Historic Division of Mars, American Heritage Chocolate. Guests will learn about the role of chocolate in the Revolutionary War and see how chocolate was made and used in the colonial period. From 11:00 a.m. to 3:00 p.m. in the Visitor Center, demonstrations of 18th century chocolate-making techniques will show the addition of flavorings to the chocolate including cinnamon, nutmeg, chili pepper, orange, and vanilla, with the end result poured out as hot chocolate available for sampling. 

The Junior Ranger Day event is weather dependent and will be rescheduled if necessary to Saturday May 4th. Check the park website (www.nps.gov/vafo) the day of the event if weather is questionable. 
Capping off National Park Week, Valley Forge NHP's partner organization, The Encampment Store, will lead a 9-mile guided hike on Sunday, April 28 at 10:00 a.m. which will last approximately 3-4 hours. The hike is open to the public and will depart from the Visitor Center. The route will follow the newly revised Valley Forge Historical Trail booklet and map, which has been used by the Boy Scouts of America since the 1980s. Participants are encouraged to wear sturdy footwear, bring water and snacks, and a compass (optional). For more details, contact The Encampment Store at 610-783-1074.
Last updated: February 26, 2015