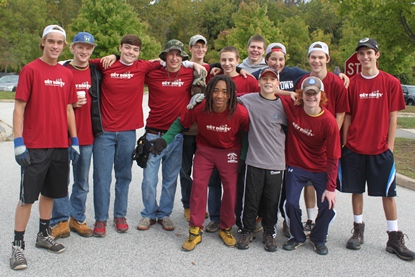 News Release Date:
June 18, 2013
Contact: Ernestine White, 610-783-1029
Contact: Kate Hammond, 610-783-1037
VALLEY FORGE, PA – Volunteers are invited to roll up their sleeves, get dirty and help to spruce up Valley Forge National Historical Park (NHP) on Saturday, September 28, 2013 in celebration of National Public Lands Day.
The annual event, now in its 20th year, is the nation's largest hands-on volunteer effort to improve and enhance the nation's 600 million acres of public lands. Activities at Valley Forge begin at 8:30 a.m. with walk-in registration and volunteer sign-in. Participants are asked to come prepared in appropriate attire and shoes. Please bring work gloves. Activities will start from the Visitor Center lower parking area. Volunteers will have the opportunity to make a real difference in the park by joining park staff to remove invasive plants and crayfish, conduct trails maintenance, plant trees, and much more.
We plan to have many projects for volunteers to choose from, as well as a guided nature/history hike, an educational activity for youth, and an Environmental Expo. Also, we will present an award to the winner of the park's "Name the New Trail Bridge" contest presented by The Friends of Valley Forge Park. To participate in this public contest to name a major new trail bridge for pedestrians and bicyclists that will be constructed to cross the Schuylkill River within Valley Forge NHP, visit The Friends of Valley Forge Park's website: http://friendsofvalleyforge.org/bridge.shtml.
"We hope that volunteers who participate in this community event on National Public Lands Day will discover the value and importance of this special place and will continue to stay connected to the park throughout the year by additional volunteering, joining The Friends of Valley Forge Park, shopping at The Encampment Store located in the park's Visitor Center, or just enjoying the park recreational and historical resources," said Kate Hammond, Superintendent.
She added that "We're happy to be partnering again with REI for the 11th year in a row for this important public event, and appreciate REI's commitment and dedication to preserving our environment." REI will be providing tee-shirts to the first 250 volunteers on event day, so get here early.In addition, The Encampment Store, located within the Valley Forge NHP Visitor Center will give all who volunteer on National Public Day a 10% discount on all store purchases.
In 2012 at Valley Forge, more than 400 participants removed invasive plants, maintained trails and replica solider huts, removed trash, stabilized riparian buffers along the Valley Creek, and much more.
Following the event's festivities there will be a BBQ Lunch located in the Visitor Center lower parking lot hosted by the Young Friends of Valley Forge Park. Donations for the BBQ Lunch are suggested.
For more information on how to participate in National Public Lands Day activities at Valley Forge NHP, contact Ernestine White at (610) 783-1029 or e-mail us.
To see a list of all National Public Lands Day sites, activities, contacts, and downloadable photos from past events, visit the media center section of www.publiclandsday.org.
About Valley Forge National Historical Park Valley Forge National Historical Park educates present and future generations of Americans about one of the most defining events in our nation's history by preserving the natural and cultural resources that commemorate the encampment of the Continental Army at Valley Forge in 1777-78.To learn more visit www.nps.gov/vafo.
National Public Lands Day began in 1994 with three federal agencies and 700 volunteers.Last year more than 100,000 volunteers worked in over 1,100 locations and in every state.Now, nine federal agencies and many state and local lands participate in this annual day of caring for shared lands. National Public Lands Day keeps the promise of the Civilian Conservation Corps, the "tree army" that worked from 1933-1942 to preserve and protect America's natural heritage www.publiclandsday.org.
About REI
Since 1976, REI has provided more than $41 million to nonprofit organizations that share our goal to protect and preserve our country's natural spaces and to get more people into the outdoors.
In 2012, $4 million was given to more than 300 local and national groups that take care of parks, trails, rivers, crags, waterways and beaches.REI's corporate grants program is a community-based approach led by our retail stores that nominate local partner nonprofits.Each grant proposal is evaluated in the context of REI's funding priorities and criteria that involve evaluation of impact, engagement and accountability.
At regional and national levels, REI also supports stewardship outdoor causes that align with our specialty shop activities and REI leaders give their time and talent to nonprofit boards related to the outdoors.In addition to helping to care for outdoor recreational places, REI actively partners with the Red Cross to support disaster relief efforts in communities around the world.In 2012, they provided $100,000 to the Red Cross for Hurricane Sandy relief efforts.To learn more about REI, www.rei.com
About The Friends of Valley Forge Park
The Friends of Valley Forge Park is dedicated to the preservation of the American spirit that was such a vital part of that winter encampment, to the conservation of the landscape that contained that encampment, and to the promotion of today's Valley Forge National Historical Park.To learn more about The Friends of Valley Forge Park, www.friendsofvalleyforge.org
About The Encampment Store
As the Park's nonprofit partner, The Encampment Store offers an extensive collection of products and books pertaining to the encampment at Valley Forge during the winter of 1777-1778, the American Revolution and Valley Forge National Historical Park's natural and cultural heritage.To learn more about the Encampment Store, www.encampmentstore.org