"Fall In" and March Out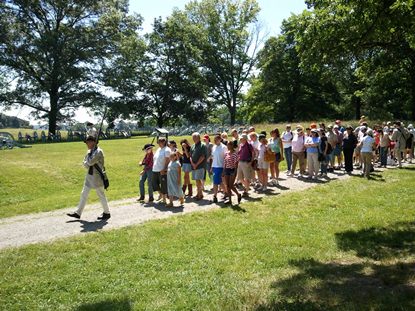 News Release Date:
June 7, 2013
Contact: George Matlack, 610-783-1099
On Saturday, June 15, from 11 a.m. – 1 p.m. the public is invited to re-create history and participate in a commemorative march along the historic trace road that General Washington's Continental Army used to march out of Valley Forge 235 years ago. The program begins at Artillery Park (tour stop #7) where participants will gather in a marching formation and walk three-quarters of a mile to Varnum's Picnic Area (tour stop #8). Along the way, costumed interpreters will present programs that show how events at Valley Forge allowed the army to turn things around and march out and successfully engage the British. A special soldier life program will conclude the march adjacent to Varnum's picnic area. Visitors may pack a lunch and enjoy it at the picnic area following the program. Sturdy footwear should be worn, as the historic road is unpaved and uneven in spots.
Towards the end of the six month winter encampment, the army remained in a constant state of readiness, as rumors of the British evacuation from Philadelphia stirred across the camp. "There's something powerful about walking in the footsteps of these soldiers," said Park Ranger and event coordinator, George Matlack, "and I admire the soldiers' positive attitude, despite the uncertainty they were facing at that time." On June 19, 1778 orders were given to march out, and the army began their pursuit of the British Army which had recently evacuated Philadelphia. The Continental Army was larger, stronger, and more unified than ever before.
Last updated: February 26, 2015