News Release
Valley Forge National Historical Park Commemorates the Arrival of the Continental Army With Special March-In Programming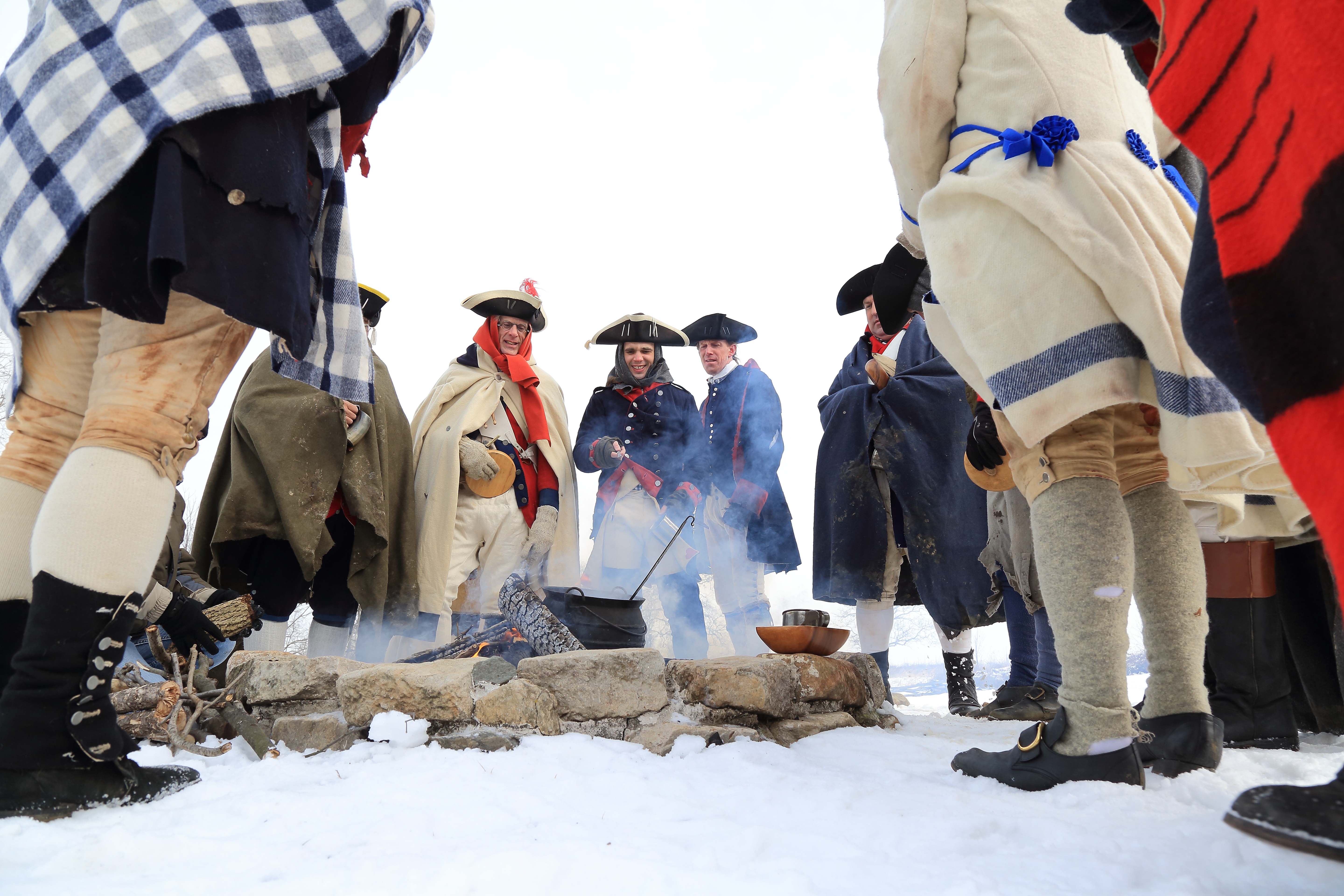 News Release Date:
December 8, 2021
Contact: Adam Gresek, 610-783-1099
King of Prussia, PA – During the weekend of Saturday, December 18 and Sunday, December 19, 2021, Valley Forge National Historical Park will commemorate 244th anniversary of the arrival of the Continental Army at Valley Forge in 1777 with a series of special programs and activities.
March-In programming takes place on Saturday and Sunday from 9 AM to 5 PM at the Visitor Center and at nearby Muhlenberg's Brigade, weather permitting. All activities are free and open to the public. See the full schedule of activity times and locations, detailed below.
---
Activities at the Visitor Center
What's in a Day Activity - 9 AM to 5 PM
Travel around the park to discover the story of a real person who was at the Valley Forge encampment. After you've found clues about your person, return to the Visitor Center to show your work to a park ranger and earn a special March-In Junior Ranger badge!
Model Log Hut Building Competitions - 10 to 11 AM & 2 to 3 PM
It took soldiers days or even weeks to construct the huts they lived in during the encampment. How quickly can you build a model hut using a log-building set? Test your mettle during these timed competitions — the fastest times will earn a prize, courtesy of The Encampment Store.
Activities at Muhlenberg's Brigade (Tour Stop #2)
Clothing and Gear Comparison - 10 AM to 2 PM
Compare and contrast modern day winter clothing and gear with what soldiers used in 1777.Some similarities might surprise you!
Camp Life and Living History Demonstrations - 10 AM to 4 PM
Want to see what daily life might look like for different people at the encampment? Stop by Muhlenberg's Brigade (Tour stop #2) to experience a slice of camp life!
Saturday Only - Wedge tent building and camp fire at the soldier huts.
Soldiers will build a hurdled wedge tent and illustrate the construction methods used to keep warm in 1777 before any huts were constructed.
Sunday Only - Gabion building and camp fire at Redoubt 2.
Soldiers will build gabions (vine/branch baskets used to construct earthwork fortifications).
Special Presentation: Ned Hector and the History of Black Soldiers in the Revolutionary War
Sunday Only - 11 to 11:45 AM & 1 to 1:45 PM at the soldier huts.
Join Noah Lewis, well-known reenactor and expert on the history of Ned Hector, to learn about Black soldiers in the Revolutionary War. The historical Ned Hector was an 18th century Black teamster local to the Valley Forge area.
Manual Exercise and Black Powder Demonstrations - 3:15 to 4 PM
To wrap up the day, a soldier will demonstrate a black powder musket firing at the firing range behind the soldier huts.
---
Visitors are encouraged to learn more about the history of the Continental Army's arrival at Valley Forge at www.nps.gov/articles/000/march-in-to-valley-forge.htm and view the park's event calendar at www.nps.gov/vafo/planyourvisit/calendar.htm.
-NPS-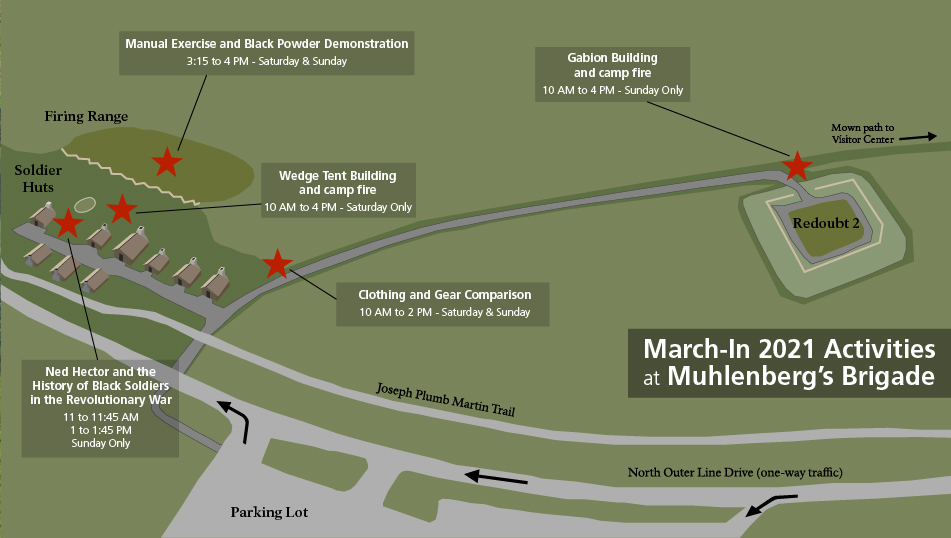 Activity locations and times at Muhlenberg's Bridgade.
NPS Graphic / G. Purifoy
Last updated: December 20, 2021