Community Partnership Rehabs Historic Covered Bridge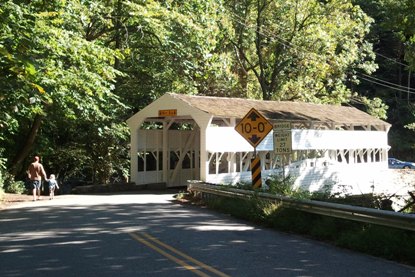 News Release Date:
September 18, 2012
Contact: Deirdre Gibson, 610-783-1047
The iconic Knox Covered Bridge on Yellow Springs Road in Valley Forge National Historical Park has received an important preservation treatment, thanks to the perseverance of the Friends of Valley Forge Park.The 1865 wooden span is strongly associated with the park, but is owned and maintained by the Pennsylvania Department of Transportation. Although the bridge looked shabby, and would have deteriorated without attention, it was a long way from making PennDOT's list of critical structurally deficient bridges.
In the best tradition of friends groups, Don Naimoli, President of the Friends, found a way to move forward.He put together a remarkable community partnership and held it together over the several years it took to bring the project to the forefront.He convinced the Nolan Painting Company, of Havertown PA, to donate painting services. At over 200 hours, this was the company's largest community project ever. Don also reached out to The Sherwin-Williams Company to donate 25 gallons of its best quality exterior paint. Seeing these donations on the table, in combination with the strong community interest in the project, led PennDOT to agree to fund the necessary replacement and repair of wooden elements and the extensive tenting that was needed to project Exceptional Value Valley Creek from the flaking paint during the project.
Over two weeks the Nolan crew and PennDOT contractors removed and replaced the non-historic cladding, scraped and cleaned all the structural wood, and repainted the entire bridge. Members of the Friends and park staff also volunteered their own time to help.
"For the Friends of Valley Forge Park, who serve as an advocate for both the park and the community, it's very satisfying to have accomplished this," said Don.
Last updated: February 26, 2015