Date:
March 21, 2012
Contact:
Rhonda Schier
, 610-783-1008
Contact:
Elaine Wilner
, 215-525-4161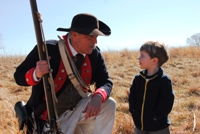 Valley Forge, Pa-The weary soldiers who arrived at Valley Forge in December, 1777, left six months later a disciplined army.On Saturday, April 28, kids ages 6-12 will get a taste of the training that created America's effective fighting force on the historic grounds where it happened 224 years ago. At learning stations set up around the grounds, rangers and educators will help kids enjoy the park in a whole new way.
-Muster Roll, beginning every hour, 10:00 to 1:00. - Drill with wooden muskets according to the training procedures of Baron Von Steuben.
-Discover the geology and archaeology of Valley Forge.
-Hear stories of survival and struggle in the winter of 1777-78.
-Watch as rangers in colorful continental army uniforms demonstrate how to fire a flintlock smoothbore musket.
-Learn about the Hut City construction at Muhlenberg's Brigade
-Visit Washington's headquarters.
-Explore the terrain that protected Washington's army.
-Learn about the park's best-known inhabitants-deer.
-Investigate the Valley Creek watershed.
-Create a story, poem or drawing about your park experience.
-Claim your official Junior Ranger Day patch (in the Visitor Center at 2:15 pm).
National Park Service Junior Ranger Program
The Junior Ranger program was created by the National Park Service to provide kids between the ages of 6-12 with hands-on, in-depth information about the resources that our parks protect. Over 200 parks participate in the program. Activity booklets are available in the Visitor Center and online at https://www.nps.gov/vafo/forkids/upload/VAFO_JuniorRanger-2.pdf.This popular program has inspired an annual summer camp, this year offered in partnership with The Franklin Institute.
-more-
___________________________________________________________________________
Information
National Junior Ranger Day at Valley Forge National Historical Park
Pick up a map and schedule of activities at the Visitor Center
Saturday, April 28, 2012
10 am -2:30 pm
Free
Rain Date: Saturday, May 5, 2012. Check the park website: www.nps.gov/vafo or on Facebook the day of the event if the weather is questionable.
For more information on the Junior Ranger program at Valley Forge: https://www.nps.gov/vafo/forkids/beajuniorranger.htm
###