Date:
October 11, 2012
Contact:
Donna Davies
, 610-783-1006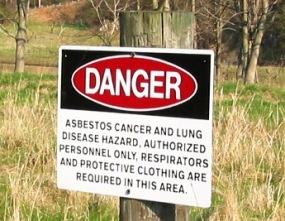 VALLEY FORGE, PA - The long-awaited clean-up of the asbestos release site (ARS) at Valley Forge National Historical Park is beginning. The ARS is a 112-acre area located along County Line Road and Station Lane within the park. It contains soil contaminated with asbestos and other hazardous substances including lead, mercury, arsenic, and polycyclic aromatic hydrocarbons. The contamination was the result of activities of an asbestos insulation manufacturing plant (the Ehret Magnesia Company and its successor, the Keene Corporation) that operated within what is now the park from the early 1890s to 1970s.
Work includes the excavation and transportation of contaminated soils to appropriate disposal facilities and the restoration of the impacted areas. The National Park Service will oversee the remediation contracting team, led by Frontier Services, Inc., in the implementation. Over 80% of the work will be completed by Pennsylvania-based contractors. Activities this fall include final survey, final engineering plans, and completion of an archeological survey to ensure that no important archeological resources will be affected. Excavation and remediation of impacted areas will begin in spring 2013. The entire project is targeted to be completed by fall 2014.
Once remediation is complete, the entire area will be re-opened to public use.
For additional information, please contact the NPS project manager overseeing this remediation, Donna Davies at Donna_Davies@nps.gov or 610-783-1006.
You may also visit the Asbestos Release Site webpage.