Washington's Headquarters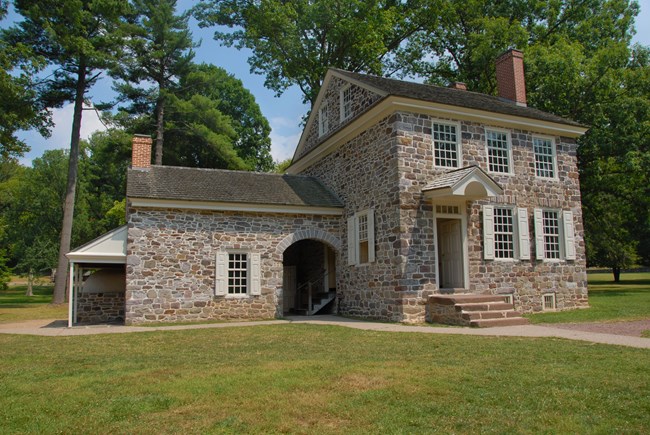 Washington's Headquarters, also known as the Isaac Potts House, is the structure used by General George Washington and his household during the 1777-1778 encampment of the Continental Army at Valley Forge.
At the time of the encampment, the house was being rented by a relative of Isaac Potts, Deborah Hewes. Mrs. Hewes, in turn, rented the entire house along with some furnishings to the General and his military family.
The building was constructed by the Potts family, likely in the late 1750s (the exact year is unknown), and today much of the structure is estimated to be original to the encampment era.
Download the illustrated guidebook to get more detailed information about the rooms inside and the staff that lived and worked in the building during the encampment. For additional information about the structure's architectural details, read the Washington's Headquarters Quick Facts sheet.
You can also view other self-guided touring options at the park.
Park Ranger Ajena Rogers recounts her time interpreting Washington's Headquarters and her work researching the stories of the African American servant staff that supported George Washington's household during the Valley Forge encampment. Rogers focuses on the story of Hannah Till, an enslaved pastry cook who worked for Washington, and about whom Rogers developed living history interpretive programming during the time that she worked at Valley Forge National Historical Park.

Duration:

14 minutes, 6 seconds
Explore the House Virtually
Take a closer look at rooms in the Isaac Potts house, which appear as they might have during the encampment. Click and drag your mouse to look around, zoom in, and make the image full screen for a more immersive experience!
Last updated: October 20, 2021