Climate Change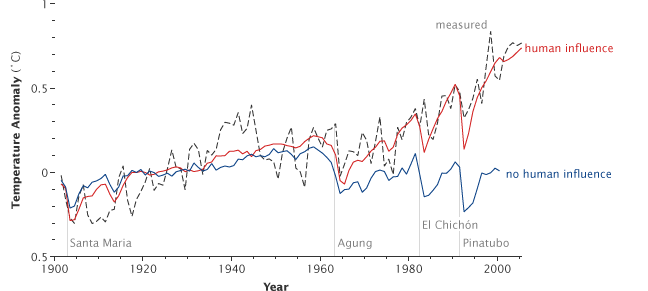 Anthropogenic, or human caused, climate change challenges national parks in ways we have never seen before. Glaciers are retreating at alarming rates. Increasingly destructive storms threaten cultural resources and park facilities. Habitats are being disrupted and species are being displaced. Responding to climate change is the greatest challenge facing the National Park Service today.
We hear a lot about the melting glaciers, changing migration patterns, and coastal erosion. Sometimes it can be difficult to picture what climate change will look like here at Valley Forge National Historical Park. According to the Pennsylvania Climate Impact Assessment Report to the Department of Environmental Protection, we will be seeing our fair share of changes in precipitation, tree species, water temperature, and plant and aquatic life.
Reconstructions of global temperature that include greenhouse gas increases and other human influences (red line, based on many models) closely match measured temperatures (dashed line). Those that only include natural influences (blue line, based on many models) show a slight cooling, which has not occurred. The ability of models to generate reasonable histories of global temperature is verified by their response to four 20th-century volcanic eruptions: each eruption caused brief cooling that appeared in observed as well as modeled records.

Check out the Hopewell Furnace National Historic Site & Valley Forge National Historical Park 2015 Status & Trends.
Climate Change Endangers:
Last updated: March 28, 2022