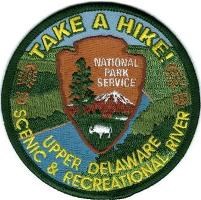 Join the National Park Service and the Let's Move Campaign to get outdoors, get great exercise, and earn a free Upper Delaware Take A Hike! patch.
1. Hike all of the trails listed on the Take A Hike! Brochure. Simply send an
email
requesting a copy of the brochure.
2. Record your hikes on the Upper Delaware Hikes checklist.
3. Return the checklist to any Upper Delaware location to receive your free patch.