John Roebling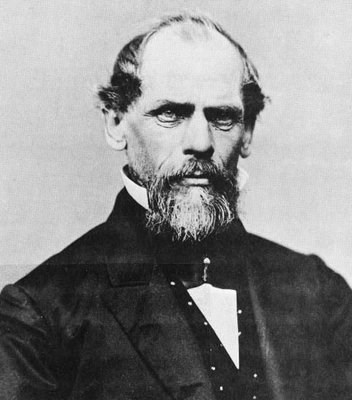 John Augustus Roebling was born in Prussia on June 12
th
, 1806. He attended the Royal Polytechnic Institute in Berlin, where he studied architecture, engineering, bridge construction, hydraulics, languages, and philosophy. At the age of 20, he graduated from RPI with a degree in civil engineering. After earning his degree, Roebling spent 3 years working for the Prussian government on road infrastructure projects, but his main interest lay in suspension bridge construction.
In 1831 John and his brother Karl left Germany with aspirations of creating a utopian farm community comprised of German emigrants. The brothers purchased 7,000 acres of land in Butler County, Pennsylvania, and began their agricultural experiment. It did not take long for John to realize that he was inexperienced and unknowledgeable in the farming industry, and consequently his farm community experiment failed. John then turned to his true passion, engineering.
In 1837 John moved to Harrisburg, Pennsylvania, where he applied and was granted citizenship to the United States. Over the next 3 years, he served as an engineer for the state of Pennsylvania, carrying out railroad surveying projects. After completing his last surveying project in 1841, John effectively established the American wire rope industry, by creating twisted wire ropes to replace hempen cables used on suspension structures, which were subject to sever usage and frequent replacement. In 1843 John patented his product and sold many wire ropes to Saxonburg, PA, the Allegheny Portage Railroad, the Delaware and Hudson Canal Gravity Railroad, and the Morris Canal. In 1849, he moved his wire rope works to Trenton, NJ, determined to enhance his reputation as an expert in the field of bridge engineering.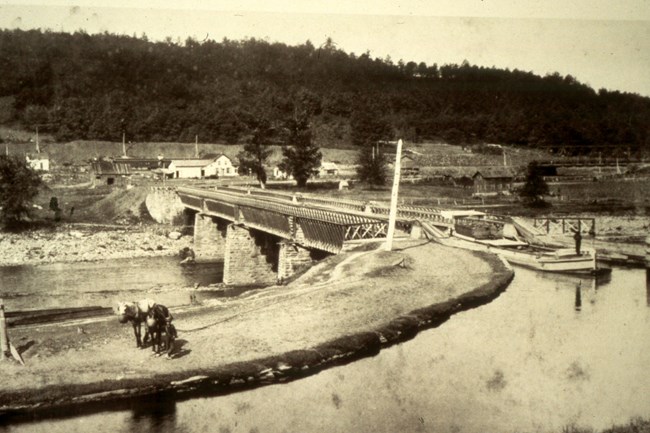 During the years of 1844 and 1845, John entered his design plan into a contest seeking the most inexpensive, yet also the most appropriate design able to fix the wooden aqueduct over the Allegheny River. John's design, which was the first cable suspension bridge of its kind in the United States, was chosen over all others due to its permanence and durability. This particular cable suspension aqueduct helped launch John's reputation as an expert in designing and building suspension bridges.
From 1847-1850 John constructed the four Delaware and Hudson Canal wire cable suspension aqueducts. During this time he attracted much attention and acquired high standing among engineers for building six suspension structures thus far in his career. John continued to attract fame and praise while building a railroad wire cable suspension bridge at Niagara Falls (1851-55) and a suspension bridge over the Ohio River (1856-1867).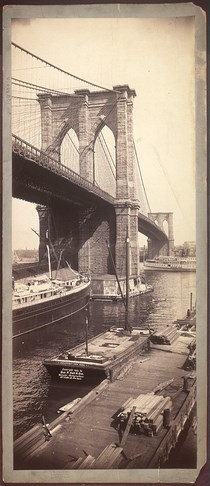 In May of 1867 John was appointed as the Chief Engineer for a suspension bridge across the East River connecting Lower Manhattan and Brooklyn. John's plans for the Brooklyn Bridge were approved in 1869 and surveys commenced immediately. On June 28, 1869 John and his son Washington (who was also an engineer) were surveying on a dock, when an incoming boat collided with the dock, crushing John's toes. His toes were amputated to avoid further complications and infections however, tetanus set in and John Roebling died of lockjaw on July 22, 1869. Washington took his father's place as the chief engineer for the Brooklyn Bridge project and completed the bridge in 1883.
John Roebling is praised for his ingenuity and is regarded as the engineer who perfected the process and art of engineering wire cable suspension bridges. John's designs added new elements of strength, rigidity, and longevity to suspension structures. He is considered to be the first engineer to construct wire cable suspension bridges able to carry locomotives, and the first engineer to construct long span bridges spanning from 1,000 feet and over. John was very dedicated to perfecting the technology and art involved in building suspension bridges. His children described his character as hardworking, confident, and extraordinarily resourceful. John was also eager to learn, tenacious, and always punctual. To this day John Roebling is considered to be a significant contributor to the wire cable suspension bridge technology and history.
Last updated: June 21, 2020