Nature & Environment
The great walls of the Mogollon Rim rise several thousand feet above the Verde Valley, marking a major ecosystem boundary that divides the southwest. Above the rim, up on the
Colorado Plateau
, the land is covered by ponderosa and juniper, volcanoes and lava flows, and the fossil forests of the Painted Desert. To the south, well below the rim, lie the dry basins of the
Sonoran Desert
, the most biodiverse desert on the planet.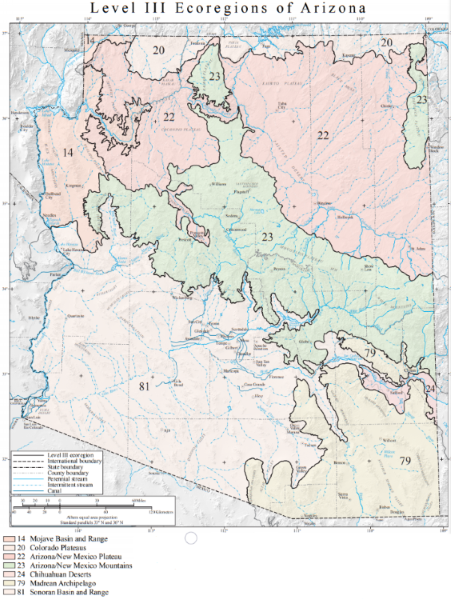 Within the
ecoregions of Arizona
, the Arizona Mountains or Apache Highlands ecoregion (#23 on the map) stands out as a hotspot of biodiversity. From the mineral-rich Black Hills to the south of the Verde Valley, to the red and white sandstone country of Sedona and the basalt palisades of the Mogollon Rim to the north, to the limestone hills of the valley itself, the dynamic nature of the Earth's geologic processes is evident in the land surrounding Tuzigoot National Monument.
Diverse geology
leads to diverse ecologies, and here in the transition zone between the cold plateaus and the arid lowlands, you can experience the full diversity of the southwestern landscape.
At Tuzigoot you can see numerous species of plants, such as mesquite, catclaw, and saltbush, which have adapted to life in an arid environment; due to the micro-habitats provided by the river, you'll also see populations of moisture-loving plants.
The monument is also home to dozens of animals, from resident deer and mountain lions to migratory birds and insects. What you'll see depends on when you visit and how lucky you are - keep an eye out and let us know what you see!
Learn more about Tuzigoot


Last updated: September 16, 2021