News Release
2020 La Fiesta de Tumacacori Cancelled - Se Cancela la Fiesta de Tumacácori 2020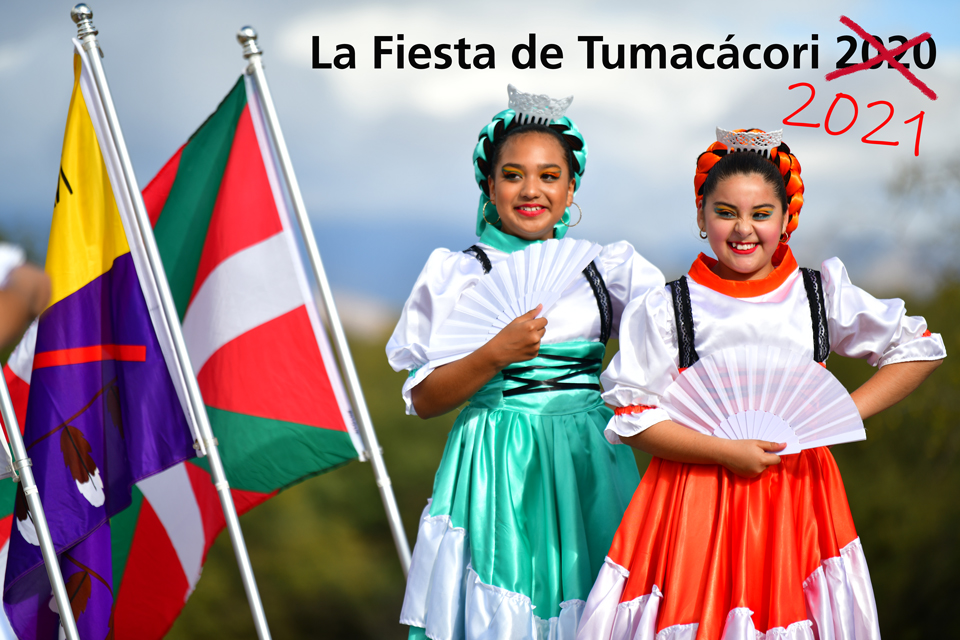 News Release Date:
September 9, 2020
Contact: Anita Badertscher, 5203775063
Following guidance from the White House, the Centers for Disease Control and Prevention (CDC), and local and state public health authorities, and in consultation with partners of La Fiesta de Tumacácori, Tumacácori National Historical Park is cancelling the 2020 Fiesta, normally held the first full weekend in December.  
"It was a difficult decision for the park staff to make," according to Bob Love, park Superintendent. "The Fiesta has been going on for fifty years and is our biggest annual event. It is an important fundraiser for many non-profit organizations and is a valued opportunity to share cultural traditions for local school dance and musical groups, and for members of the O'odham, Yaqui, and Apache nations." 
Many factors played into the decision to delay the 50th Tumacácori Fiesta to 2021. Planning for the event normally begins in August, with nonprofit vendors beginning to plan and buy supplies in September. School bands and dance groups, major contributors to the Fiesta performance schedule, are unable to rehearse and perform in person this fall semester. Cross border traffic is currently restricted, preventing groups from the Mexican state of Sonora from planning to participate. Many partner groups are in high risk categories as defined by the CDC, and local COVID-19 testing positivity, while trending downward, remains high at more than 20%. The event draws up to 4,000 people over the weekend; the park concluded that it is unable to manage the event in a way that would assure the safety of participants. 
"We are looking forward to celebrating our 50th Fiesta," Superintendent Love added. "The 50th Tumacácori Fiesta will be just as special and exciting as we'd hoped – it just won't be this year. Mark it on your calendar to come party with us in December 2021!"  
The park's visitor center and museum building, which closed in March, currently remains closed. An opening date has not been set. The mission grounds and historic church remain open daily from 9:00 a.m. to 5:00 p.m., with information, restrooms, and a water fountain available. Park rangers are on hand for questions or assistance.  The Anza Trail is available 24 hours a day. To read more about the NPS response to COVID-19, including a service-wide list of temporary closures and operational changes, visit: https://www.nps.gov/aboutus/news/public-health-update.htm 
 
---
Siguiendo la dirección de la Casa Blanca, los Centros para el Control y la Prevención de Enfermedades (CDC) y las autoridades de salud pública locales y estatales, y en consulta con los participantes de La Fiesta de Tumacácori, el Parque Histórico Nacional Tumacácori cancela la Fiesta 2020, el cual normalmente se celebra el primer fin de semana completo de diciembre. 
"Fue una decisión difícil de tomar para el personal del parque", según Bob Love, superintendente del parque. "La Fiesta se ha celebrado por cincuenta años y es nuestro evento anual más grande. Es un evento importante para recaudar fondos para muchas organizaciones no lucrativas, y es una valiosa oportunidad para compartir tradiciones culturales para los grupos musicales y de danza de las escuelas locales, y para los miembros de las naciones O'odham, Yaqui y Apache ". 
Muchos factores influyeron la decisión de posponer la 50ª Fiesta de Tumacácori hasta el 2021. Las preparaciones para el evento normalmente comienzan en agosto, y los proveedores sin lucro comienzan a hacer planes y comprar suministros en septiembre. Las bandas de la escuela y los grupos de baile, que son los principales contribuyentes al programa de presentaciones de la Fiesta, no pueden ensayar ni presentarse en persona este semestre de otoño. El tráfico transfronterizo está restringido, lo que impide que grupos del estado mexicano de Sonora planeen participar. Muchos grupos asociados están en categorías de alto riesgo como definido por el CDC, y la positividad de las pruebas de COVID-19, mientras tendencia hacia abajo, queda muy alta a más que 20%. El evento normalmente atrae a más de 4,000 personas durante el fin de semana; el parque concluyó que no puede manejar el evento de una manera que garantice la seguridad de los participantes. 
"Esperamos celebrar nuestra 50ª Fiesta", agregó el superintendente Love. "La 50ª Fiesta de Tumacácori será tan especial y emocionante como esperábamos, simplemente no lo será este año. ¡Anótelo en su calendario para que celebre con nosotros en diciembre de 2021! " 
El centro de visitantes del parque y el museo, los cuales cerraron en marzo, permanecen cerrados. No se ha determinado una fecha de apertura. Los terrenos de la misión y la iglesia histórica permanecen abiertos todos los días de 9:00 a.m. a 5:00 p.m., con información, baños y una fuente de agua disponible. Los guardaparques están disponibles para preguntas o asistencia. El sendero Anza está disponible las 24 horas del día. Para leer más sobre información proporcionada por el Servicio de Parques nacionales (NPS) sobre el COVID-19, incluyendo una lista de cierres temporales y cambios operativos de todo el servicio, visite:  https://www.nps.gov/aboutus/news/public-health-update.htm 
Last updated: September 10, 2020