Juan José Agorreta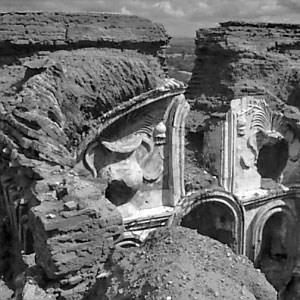 By
Ginny Sphar
Father Juan was one of eight Querétaran friars who had drawn the eight missions of the Pimería Alta.[1] Father President Buena and Governor Pineda had sent him to Sáric in 1768.
In mid-October 1771, chunky Father Agorreta came to Tumacácori from Sáric to take care of Father Gil de Bernabé when he fell ill. Then when Agorreta's hemorrhoids flared up, Father Garcés came south from San Xavier del Bac to take care of both. He nursed them until they recovered.[2]
---
[1] Buena y Alcalde to Guardian and Discretory, Tubutama, July 9, 1768, CC, 201.49. Buena y Alcalde to (Gálvez, early 1769), CC, 201.53. Barbastro, Compendio. Father Esteban de Salazar to Flores, Ures, August 21, 1768, CC, 202.12. Pineda to Buena y Alcalde, Horcasitas (May, 1768), AF, 40/907.
[2] Salazar to Buena y Alcalde, Tubutama, November 13, 1771, ibid., 512. On October 22, 1771, Agorreta married three Indian couples por enfermidad del Padre Ministro.
---
To learn more about Padre Agorreta go to
Mission 2000
by clicking (
here
) and following the
blue ID numbers
. To return to Franciscan Missionaries, click (here).
---
Last updated: June 19, 2020