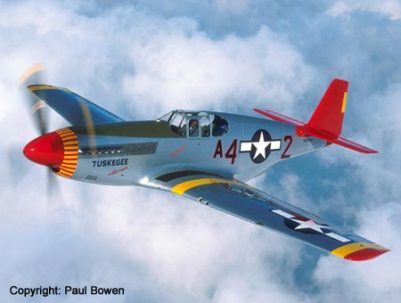 News Release Date:
January 19, 2012
Contact: Deanna Mitchell, 334-724-0922
On Friday, January 20, historic Hangar One will be open from 9:00 a.m. to 5:00 p.m. and visitors will be able to roam the museum to learn about the Tuskegee Airmen. We will also be hosting various activities commemorating what the Governor's Office, City of Tuskegee, and Macon County have deemed "Red Tails Day".Those activities will include:
A Children's Discovery Area. Children will be able to learn about the heroic Tuskegee Airmen through fun yet educational opportunities such as a scavenger hunt, aircraft coloring sheets, storytelling, and the like.
Exhibit Design Staging Area. Visitors will get to see for themselves the proposed designs and renderings for the other museum facilities that will be fully exhibited in 2012 (Hangar 2, Control Tower, and Skyway Club).
Video Viewing Area. An area will be set up in the hangar for visitors at their leisure to view a variety of Tuskegee Airmen documentaries such as "Flying for Freedom", "Resurrecting Moton Field" and others.
Tuskegee Airmen Panel Discussion. This panel discussion will be the anchor event of the day and the panel will consist of several original Tuskegee Airmen as well descendants of Tuskegee Airmen. The panel discussion will begin between 3:00 p.m. and 3:30 p.m.
With the premiere of the George Lucas film "Red Tails" opening in theaters on January 20, the Tuskegee Airmen National Historic Site has experienced a huge influx of telephone calls, visitors, and media outlets. Many individuals have asked if the "Red Tails" film will be shown at the Site during the activities and the answer is no. Movie goers will have to enjoy the film in theaters.
This is an exciting time for the Tuskegee Airmen National Historic Site as we hold great pride in making this national museum available to not just the country but the whole world! This legacy is truly remarkable and as we all ready ourselves for the future, we can clearly say that these remarkable heroes of WWII - men and women - deserve their rightful place in history.