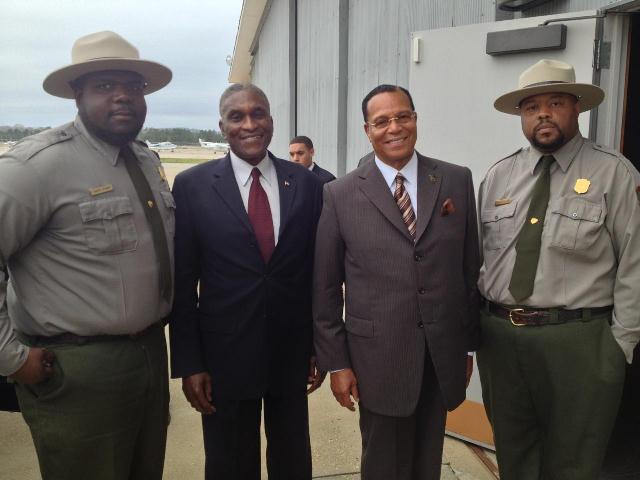 News Release Date:
April 11, 2013
Contact: Robert Stewart, 334-724-0922
TUSKEGEE, AL- The Tuskegee Airmen National Historic Site is no stranger to visits from celebrities, dignitaries, and icons, making Saturday, March 23rd an honor to welcome Minister Louis Farrakhan of the Nation of Islam, his staff and the Mayor of Tuskegee, Johnny Ford. Timothy Sinclair, Chief of Interpretation and Park Ranger Robert Stewart facilitated a tour of the birth place of the Tuskegee Airmen, where the men and women of the "Red Tailed Angels" were organized.
Intrigued by the story, Minister Farrakhan was told the history of the Airmen, their backgrounds and distinctions earned while defending the United States with Allied Forces during World War II as well as the challenges and triumphs faced while in the Army Air Corps. Sinclair explained the Double V Campaign; how the Tuskegee Airmen fought two "Wars", one against segregation in the United States and another against fascism; fighting the Nazis.
Ranger Stewart shared the Airmen's legacy with the Minister. He spoke of their tenacity that enabled them to turn hardships into victories to deal with the injustice of a segregated country and serve in segregated combat units. Minister Farrakhan viewed pictures of military leaders including Benjamin O. Davis, Jr., a West Point graduate and Commander of the Tuskegee Airmen and Daniel "Chappie" James, a Tuskegee Airmen who later became the very first African American Four Star General in the United States Air Force.
Minister Farrakhan commented how African American blood has been spilled all over the world for this country, yet the struggle for equality continues and stressed the importance of the continued education about the legacy of the Tuskegee Airmen. Pleased with his introduction to the Tuskegee Airmen National Historic Site and his tour, Minister Farrakhan thanked the National Park Service staff for their service and commitment.