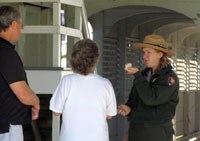 Programs are offered weekly at sites within the Timucuan Preserve. Program schedules are different at each site, so we suggest you look at the schedule below, or call for more information.
Kingsley Plantation - House tours are available on weekends at 11:00 a.m. and 3:00 p.m. call 904.251.3537 for reservations. Week day afternoon Ranger Talks are offered whenever staffing allows.
Fort Caroline- Nature hikes are offered every Sunday at 2:00 p.m. departing from the visitor center.
Ribault Club (Partnership Visitor Center) - For program information for the Ribault Club and Talbot Islands State Parks, click here.
For education programs for schools, please see our Education Guide.
For special programs or events, please see our Calendar.