Closures
Fort Model Repairs
The National Park Service (NPS) will be conducting repairs from April through August 2019 on the Fort Caroline National Memorial (FOCA) Fort Model. The Fort Model is the premier feature, representing the memorial aspects of the Ft. Caroline National Memorial. It is the defining feature of the enabling legislation for the establishment of Ft. Caroline and is also the most visited feature of Timucuan ecological and Historic Preserve.
Hurricane Irma caused extensive damage to the Fort Caroline National Memorial, Fort Model. The hurricanes storm surge, high winds and coastal battering, collapsed portions of the Fort Model's palisade wall along the St. John's River. In addition, storm waters undermined the northern and eastern gun emplacements causing significant material loss in both areas. These repairs will address the above issues and will also ensure the fort model is both structurally sound and available for visitors for years to come.
This repair work includes replacing approximately 320 Linear Feet of palisade wall and associated bracing, as well as the stabilization of the earthen works on the eastern and northern interior wall areas.
For public safety, during the repairs, the NPS will be limiting both interior and exterior visitation at the Fort Model. The public will be able to access the interior area Fort Model to include the waysides, kiosks and parts of the southern and western gun emplacements. The exterior access to the northern, western and eastern sides of the fort will be inaccessible and will be blocked off by fencing. See diagram. We apologize for any inconvience.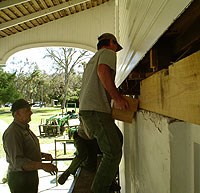 Building Closure at Kingsley Plantation
The main plantation house is closed due to ongoing structural work. Ranger guided tours are available Saturday and Sunday at 11:00 and 3:00. House tours are limited to 12 people by reservation only. Call (904) 251-3537 for more details or to make a reservation. The plantation grounds and other buildings remain open.
more...


Last updated: April 1, 2019