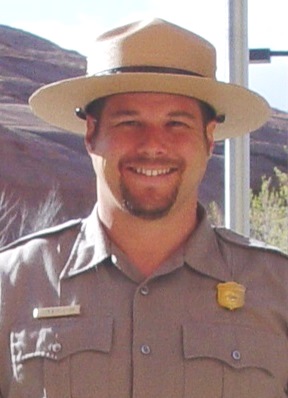 News Release Date:
April 14, 2015
Contact: Bill Reynolds, 404-507-5612
ATLANTA -- Southeast Regional Director Stan Austin announced that Chris Hughes has been selected as the superintendent of Timucuan Ecological and Historic Preserve in Jacksonville, Fla. He has been the chief of science and resource management at Glen Canyon National Recreation Area and Rainbow Bridge National Monument in Arizona and Utah since 2008.  Hughes will begin his new assignment in July.
 "We are very pleased to have Chris return to the Southeast Region," Austin said.  "He understands the value of greenspace in major cities and the important connection between people and parks. He is an energetic leader who will continue to build key partnerships in Jacksonville's communities.  As we progress into the Centennial year of the National Park Service, we know Chris will work to make Timucuan and its resources even more relevant and important to its neighbors and visitors."
Hughes grew up in Florida.  He started his National Park Service career in 2005 at the Chattahoochee River National Recreation Area in Atlanta.  In 2008, he moved to Arizona and started working at Glen Canyon National Recreation Area. During his tenure there, he worked to protect the cultural and natural resources of 1.25 million acres in Utah and Arizona, including Rainbow Bridge National Monument.  His service at Glen Canyon gave him experience managing water-based resources on more than 180 miles of shoreline at Lake Powell, as well as 15 miles of the Colorado River.
Hughes built partnerships throughout multiple states and helped form alliances to protect park resources. These include the Escalante River Watershed Partnership, the Long Term Experimental Management Plan, and Adaptive Management Planning on the Colorado River.  He also has partnered with other land management agencies such as the Bureau of Land Management, the Bureau of Reclamation, Arizona Game and Fish, and the Utah Department of Wildlife Resources.  He has experience working with a diverse group of stakeholders, including tribes, energy interest groups, recreational groups, and state and local governments. Hughes has also served on park operational review teams and served as acting superintendent at Tumacácori
.  He 

enjoys water-based recreation, diverse cultures, cycling, and exploring parks with his family. He, his wife, Jennifer, and their two daughters will move to Jacksonville in July.
"I'm humbled to have the opportunity to work with the staff at Timucuan and help facilitate the entire community's connection with its natural and cultural resources, abundant green space and recreational opportunities," Hughes said. "I grew up in Florida boating, fishing and visiting fresh water outdoorsman have a great appreciation for how people connect with these springs. I want to provide more opportunities, especially for young people, to make those connections as we observe the upcoming National Park Service Centennial."