Date:
November 17, 2011
Contact:
Ranger Craig Morris, 904.641.7155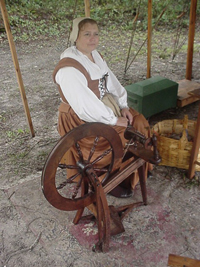 December 10-11, 2011 Jacksonville, Florida
History comes to life at Fort Caroline National Memorial Saturday December 10th from 9am-9pm and Sunday the 11th from 9am-3pm. Take a journey back in time to the 1500s when a group of French settlers sailed over 4000 miles across the Atlantic Ocean to reach the north Florida coast. Visitors can see and experience life as it was for this group of French settlers when they arrived in Florida in 1564.
Come watch people dressed in sixteenth century clothing prepare food in bubbling cauldrons over open fires. Meet interpreters dressed as Timucuan Indians and learn how the Timucua used everything in their environment to survive. Guests can participate in a variety of interactive activities such as weaving fibers and playing with sixteenth century toys.
Superintendent Barbara Goodman hopes "visitors will gain a better understanding of what life was like for the French settlers and the Timucuan Indians in the oftentimes harsh Florida environment." Other programs include historic weapons demonstrations as well as sixteenth century music and dancing.
This event provides education and entertainment for all ages and is free and open to the public.
SCHEDULE:
Saturday December 10TH:
9am-5pm Living History Demonstrations and Interactive Events
6:30pm Evening Holiday Program Begins
8:30pm Closing Cannon Firing
9:00pm Event Closed for the Evening
Sunday December 11th:
9am-3pm Living History Demonstrations and Interactive Events
Fort Caroline National Memorial is a National Park site that memorializes the French settlers that built a fort and settlement in the Jacksonville area in 1564. The site Visitor Center also serves as the Visitor Center for the Timucuan Preserve, a 46,000 acre ecological and historic preserve in northeast Florida which includes Fort Caroline National Memorial. The Timucuan Indians lived in this area of northeast Florida for over 10,000 years.
Located off 9A in the Arlington area on the St. John's River, Fort Caroline is open daily, at no charge, between 9:00am and 5:00 pm.