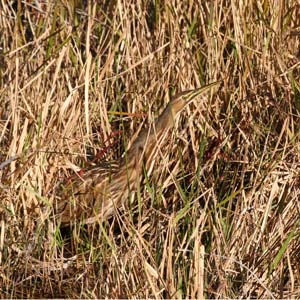 News Release Date:
April 24, 2014
Contact: Shana Allen, (904) 221-7567 ext. 115
Jacksonville, FL. Celebrate International Migratory Bird Day (IMBD) on May 10, 2014 at the Timucuan Preserve. Activities will begin at 9:00 a.m. and continue until 3:00 p.m.
This year IMBD theme "Why Birds Matter" explores the benefits of birds to humans and nature. Not everyone is aware of the diversity of birds around the world, the amazing migrations some take, and the phenomenal range of behaviors, plumages, and songs. International Migratory Bird Day 2014 shares the many ways in which birds matter to the earth, to ecosystems, and of course, to us. 
"This inaugural event is designed to inspire children and the entire community to explore the importance of the unique and diverse resources within the Timucuan Preserve to bird conservation," explains Superintendent Barbara Goodman. Timucuan Preserve is proud to participate in IMBD, the largest-known conservation and education event of its kind in the Western Hemisphere. This migratory bird event increases public awareness and involvement in bird conservation. Birds are economically important and a priceless part of America's natural heritage—and they are critical indicators of environmental health upon which we all depend. "Timucuan Preserve has become an important respite for many birds as they migrate through the southeast United States. Events like these provide opportunities for the public to help researchers gather data on bird populations of the Preserve," Superintendent Goodman adds. Timucuan Preserve provides nearly 46,000 acres of wetland, forest, and salt marsh habitat for migrating, nesting, and wintering birds. Nature related activities such as birding are enjoyed by visitors year-round. 
Schedule of events:
Spanish Pond Programs: 
Meet across from Fort Caroline National Memorial 12713 Fort Caroline Road, Jacksonville, FL 32225 
Why Birds Matter Ranger Program
Time: 10:00am-10:30am and 1:00pm-1:30pm
Join Ranger Craig at Spanish Pond (across from Fort Caroline National Memorial) to learn the basics of birding and find out "Why birds matter." Afterwards, participate in the Spanish Pond bird count or hike the Spanish Pond Trail.  
Fort George Island Programs: 
Meet at the Ribault Club State Park 11241 Fort George Road Jacksonville, FL 32226 
Birding by Foot on Fort George Island: Bird Rookery 
Hike Time: 9:00am-11:00am 
Ever wonder why some birds have thin, slender, pointed beaks while other birds have sharp, "hooked" beaks? Attend this bird hike led by birder James Wheat and learn about adaptions birds have for their environment and lifestyle. 
Birding by Foot on Fort George Island: Old Golf Fairways 
Hike Time: 1:00pm-3:00pm
Fort George Island is home to a diverse population of birds, everything form song birds to shorebirds. Learn about common birds of Fort George Island and how to identify them with birder James Wheat. 
Birding by Segway: Trail to Point Isabel 
Reservations required: https://www.eventbrite.com/e/birding-by-segway-trail-to-point-isabel-tickets-11388359891
Times: 10:00am-11:30am and 12:30pm-2:00pm (All riders must be at least 14 years of age and under 260 pounds) 
Feeling adventurous? Join concessionaire Kayak Amelia for 1 ½ hours long Segway tour of Fort George Island. The trail has varied terrain with ancient dunes, tree arches and expansive water views. You will see several unique habitats such as forest, marshes, and sand dunes each with bird populations adapted for life in each environment. 
Kayaking Programs: 
Meet at Alimacani Boat Ramp 11080 Heckscher Drive Jacksonville, FL 32226 
Reservations required: http://www.eventbrite.com/e/birding-by-kayak-birds-of-huguenot-memorial-park-tickets-11386404041 
Birding by Kayak: Birds of Huguenot Memorial Park 
Time: 10:00am-12:00pm (Recommended for beginner birders and kayakers. Great for children!)
To start, Huguenot Memorial Park Naturalist, Shelly Beville, will provide a 30 minute program about how to distinguish between the birds commonly found coastal habitats and what you might find at Huguenot Memorial Park. Then take a short paddle led by Eric Bersinger and Kayak Amelia into Huguenot Memorial Park to practice bird identification. Bring water. Wearing sunscreen and bug spray is recommended. Birding by Kayak: Birds of Huguenot Memorial Park Time: 1:00pm-3:00pm (Recommended for experienced birders and kayakers.)       
Join National Park Service staff, Kayak Amelia, and birder Eric Bersinger on a paddle to go bird watching on the Fort George Inlet. This kayak paddle is designed for experienced birders and kayaker and is longer than the morning trip. No formal birding programs will be provided, however highly skilled birders and kayakers are leading the trip. The bulk of time will be spent identifying and counting birds. All events are free and open to the public. Space is limited and reservations are required for Segway and kayak tours. Reservations must be made in advance using the online ticketing system (websites above). Please arrive at least 30 minutes early to sign-in and get fitted for safety equipment. Bring water, snacks, sunscreen, insect repellent, and wear shoes and clothes that can get wet. Bring binoculars if you have a pair.