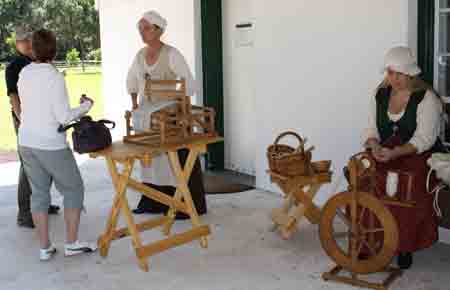 News Release Date:
September 22, 2014
Contact: Kingsley Plantation  , 904.251.3537
JACKSONVILLE, FLA.---On Saturday, October 4, 2014, the Timucuan Preserve, a unit of the National Park Service, will host Harvest Day, a special event marking the end of the harvest season at Kingsley Plantation.Harvest Day was a tradition on all of Zephaniah Kingsley's plantations.  In October, 1841, Kingsley Beatty Gibbs, nephew of Zephaniah, wrote in his journal: "No work done today, as all the people have it to gather their own crops- It is a rule which we have, to give all the [slaves] one day in the spring to plant, and one day in the fall to reap […]."
The event will be held from 10am to 4pm and will include demonstrations of plantation activities, including: cooking, tabby making, blacksmithing, and the harvest of Sea Island cotton and indigo; two of the historical cash crops for the plantation.Families are invited to help with tasks such as butter churning, cotton ginning, and producing indigo dye.
 In addition, visitors will learn of a most thought provoking fact, that Kingsley's enslaved workforce was armed to defend the plantation and hunt for animals!  Yes, this notion of slaves having firearms flies in the face of commonly held beliefs, but it is well documented that Kingsley armed his slaves.  Park rangers will present programs on this surprising fact and introduce visitors to the type of musket used on the Plantation by discussing the Patriot Rebellion, a particularly tumultuous time for Florida plantations.  These programs will take place throughout the day.
 This event is free and open to the public.  For more information, please call Kingsley Plantation at (904) 251-3537 or visit https://www.nps.gov/timu.  Like us on Facebook at Timucuan Ecological and Historic Preserve and follow us on Twitter @TimucuanNPS. 
Located off Heckscher Drive/A1A one-half mile north of the St. Johns River ferry landing, Kingsley Plantation is open daily, at no charge, between 9:00 a.m. and 5:00 p.m. 
 ---NPS--- 
 The National Park Service is composed of more than 20,000 rangers, biologists, historians, geologists and other professionals who care for America's 401 national parks and other special places so that everyone today and in the future can experience America's history and beauty. 
EXPERIENCE YOUR AMERICA 
The National Park Service cares for special places saved by the American people so that all may experience our heritage.