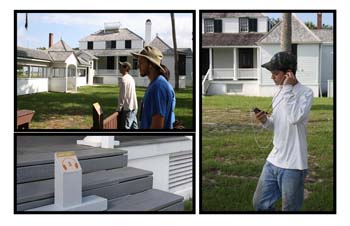 News Release Date:
June 19, 2013
Contact: Susie Sernaker, 904.251.3537
Contact: Emily Palmer, 904.251.3537
Jacksonville, FL—Timucuan Ecological and Historic Preserve Superintendent Barbara Goodman announced today the unveiling of a new audio tour entitled, "The Lion's Storyteller". The tour will give visitors a chance to hear the entire story of Kingsley Plantation, not just the owners' perspectives.
Many slaves could not read or write therefore their experiences were passed down through the generations as oral tradition; still other stories have been lost entirely. The audio tour captures their story in an immersive, multi-media experience, drawing on some first-hand accounts, documents from the time, and stories from the historic record. As one of the characters states in the tour, "Until the lion has its own storyteller, the hunter will always have the best part."   
The script brings to life those people who lived and worked at Kingsley both the enslaved and the free. It tells of the legal differences of slavery in Spanish held Florida and that of the newly founded United States. In the end it tells us that "one cannot differentiate systems of slavery; because at its core it is one of the worst things that one human can do to another", stated Superintendent Goodman. 
The tour is further enhanced with photos, videos and historical content as extra material. This unveiling coincides with the preserve's 25th anniversary and is just one of many exciting improvements and activities planned for this year.  
Visitors can request the audio tour at the visitor center at Kingsley Plantation. After a quick tutorial by park staff, visitors start their immersive journey into the past of this remarkable historic site. Audio described as well as subtitled versions are available for visitors needing assistance.  
Come out and allow the new tour to be the Lion's Storyteller. The tour is available at the park during the hours of 9:00 a.m. to 3:30 p.m. Please allow one hour to fully enjoy the experience.  
About the Park:  Located off Heckscher Drive/A1A one-half mile north of the St. Johns River ferry landing, Kingsley Plantation is open daily, at no charge, between 9:00 a.m. and 5:00 p.m. For more information, call 904.251.3537, or go to https://www.nps.gov/timu, where you can access this full text press release.