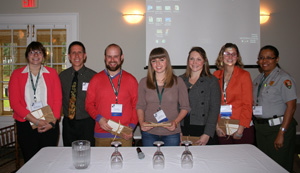 News Release Date:
May 20, 2015
Contact: Shauna Allen, Chief of Resource Stewardship and Partnerships, (904) 221-7567 ext. 115
Jacksonville, FL (May 4, 2015) –The National Park Service and its official Friends Group, the Timucuan Trail Parks Foundation, are proud to announce the three recipients of $500 research grants from the "Timucuan Preserve Student Research Grant Program." This is the third year of the program established through sponsorships at annual "Timucuan Science &History Symposium" held in January 2015. Grant sponsors include the Jacksonville University's Marine Science Research Institute and the Rose Garden Club.
To qualify, applicants had to be currently enrolled as undergraduate or graduate students and submit research project proposals. The purpose of the grant is to provide the student with financial support while conducting research.The three recipients are Betsy Kurimo-Beechuk of the University of Georgia;Sean Sharp and Tracey Wallace-Timonere of the University of Florida. The final research report must be completed by December 31, 2015, and the students will present their work at the 5th Annual "Timucuan Science and History Symposium" on January 22, 2016.
"We are grateful to have the support of the Timucuan Trails Park Foundation as we engage the next generation of park scientists and researchers. With their assistance we are not only creating opportunities for students to connect with the National Park Service, but expanding our body of scientific knowledge to help us manage these precious resources," says Shauna Allen, Chief of Resource Stewardship and Partnerships."
"We are very excited to be able to offer this grant program to support students so they can conduct research in the Timucuan Preserve. There is so much to learn about this complex eco-system, ranging from the biological diversity to the vast historical significance this area holds," says Maria Mark, executive director of TTPF. "It is important that we, as the official Friends Group for our National Park, are a part of this program and to support this needed research. We are grateful to our 2015 sponsors, Jacksonville University and the University of North Florida. Next year, we're hoping to increase the level of sponsors so we can double the number of grants available, which are awarded in $500 or $1000 increments, depending on the sponsorship level."
ABOUT TIMUCUAN ECOLOGICAL AND HISTORIC PRESERVE
Timucuan Ecological and Historic Preserve was established in 1988. Its 46,000 acres contain unique natural and cultural resources, including one of the last unspoiled coastal wetlands on the Atlantic Coast. It helps to preserve 6,000 years of human history in Florida, including vestiges of the Timucua Indians, the French colonization at Fort Caroline, the period of Spanish ownership of Florida, and the Kingsley Plantation. Visit the Timucuan Preserve website: https://www.nps.gov/timu
ABOUT THE TIMUCUAN TRAIL PARKS FOUNDATION
The Timucuan Trail Parks Foundation (TTPF) is the official non-profit support organization for the Timucuan Trail State and National Parks, which comprises the largest urban park system in the United States.Established in 1999 as the Preservation Project Jacksonville non-profit organization, TTPF supports these parks through fundraising, marketing and advocating, but most importantly, by connecting our community to their parks. For more information about TTPF and how you become involved and become a "Friend of the Parks," please visit our website: www.TimucuanTrailParksFoundation.org