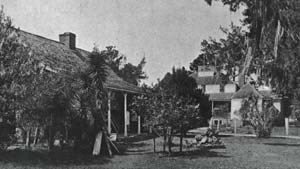 The plantation house and the kitchen house represent several phases of construction, ownership and use. Originally built in 1798 by enslaved craftsmen during John McQueen's ownership, the plantation house is the oldest planter's residence still standing in Florida.
Each owner of this plantation contributed something of his way of life, management style, and beliefs about society and economy to the plantation, giving the buildings and grounds a unique and historic quality.
Proceed to History of a House - Now.
Return to Closures.
Learn more about Kingsley Plantation.