Crops of Kingsley Plantation
These crops are grown each year in the demonstration garden.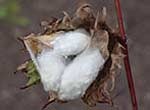 Sea Island cotton was the cash crop at Kingsley Plantation from the 1790s until the American Civil War (1860-1865). Valued for its long, silky fiber, the plant liked the sea island climate of Fort George Island and other sea islands from Florida to South Carolina. This cotton had to be worked entirely by hand to protect the long fibers.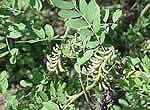 Indigo was the original cash crop of Fort George Island, where Kingsley Plantation is located. The green leaves and stems produced a rich blue dye that was highly valued throughout the world. The banana-shaped pods are the seed pods, and the plant also produces small pink flowers. For more on indigo and slavery, visit this education website: Slavery in America.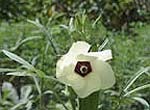 The plantation was self-sufficient, so all food needed for the planter's family and the slave community was grown here. Okra is one example of a crop with African roots that became a staple of southern cooking. Other provisional crops included beans, potatoes, peas, sugar cane, squash, gourds, and many more.
Return to History of Kingsley Plantation.
Last updated: July 17, 2020