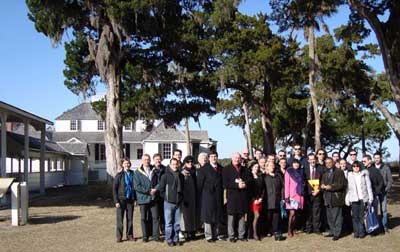 On February 13, 2010, a French delegation from Nantes, one of Jacksonville's Sister Cities, attended the Kingsley Heritage Celebration at Kingsley Plantation to participate in a special presentation entitled "Revolts during the Middle Passage."
If you missed the event, you can read the transcript of the speech below and choose links about the event or the slave trade project.
These documents require Adobe Acrobat Reader. You can get this free program by clicking here.
Transcript of "Revolutions during the Middle Passage" speech at the Kingsley Heritage Celebration on February 13, 2010
"Weather or Not, Here I Come: French Delegation Attends Slave Trade Program at Kingsley Plantation" - Summary article of the Kingsley Heritage Celebration event on February 13, 2010
Slave Trade Talk and Exhibit (2008)