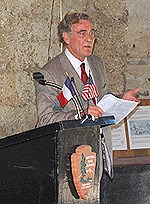 2008 Speech on the Transatlantic Slave Trade
Jean-Marc Masseaut, Educational Director for the Study Center of the Shackles of Memory Association in Nantes, France, spoke at the Kingsley Heritage Celebration on February 9, 2008. The transcript of his talk on "The Transatlantic Slave Trade" is available below, published with the permission of Mr. Masseaut. We thank him for making this available to the public.
Learn more information about his organization and "Les Cahiers des anneax de la memoire (The Shackles of Memory Journal)."
See exhibits created by the Shackles of Memory Association for the 2008 Kingsley Heritage Celebration.