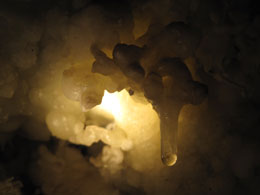 Due to a trail construction project delay, a limited number of tours will be available through 9/16 on Saturdays and Sundays. All tours are first come first serve and must be purchased in the Visitor Center the day of the tour. The Visitor Center remains open 7 days a week from 7:00-5:00.

Ready to spend some time in the canyon or hike to the cave? We want to help you plan your visit. The caves and the visitor center are typically open May through late-October; see operating hours and tour schedules. The visitor center is accessible and offers video programs and exhibits about the caves.
The trail to the caves provides spectacular views of American Fork Canyon and Utah Valley. It climbs steeply 1,092 feet over 1 1/2 miles, and is not wheelchair accessible. No baby strollers or wheeled vehicles are allowed on the trail. Local residents regularly hike the trail for fun and fitness. The canyon views are spectacular.
Cave tours frequently sell out well in advance, particularly on weekends and holidays. Plan your visit in advance, review the information on this website, and call the Monument at (801) 756-5239 for further assistance.
Whether you are coming for a summer picnic or planning on make us part your next vacation, look around this website and use this information. Learn more with our Basic Information and Direction and Transportation page. Get your cave tour tickets early and don't forget to check out our Safety page. Plan on coming to one of our many ranger programs at the visitor center and beyond.