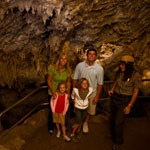 Cave Tours
When: Daily, during the operating season.
Duration: 3 to 3 1/2 hours round trip from visitor center
Explore a world underground, deep inside the mountain, along the 1/3-mile (1,800 feet), ranger led cave tour. Highly decorated caves with gravity defying helictites, fragile anthodite crystals and flowing cave drapery are among the many formations that adorn the caves and winding passages. These unique formations and the fascinating human history are a few of the things that make the caves such a special place. Before you begin your hike to the caves, be sure to buy your tickets at the visitor center. Click here for detailed information on cave tours.