Directions and Transportation
Location
Timpanogos Cave National Monument is located in the Wasatch Mountains in Northern Utah, approximately 40 miles south of Salt Lake City.
Plane
The closest major airport is Salt Lake City International Airport, 45 minutes away by automobile.

Car
From I-15: If you are arriving via Interstate 15 take Exit 284 (Alpine-Highland exit), then turn east on State Highway 92 and proceed ten miles (16km) to the monument.

From U.S. 40 or U.S. 189: From Heber City or traveling through Provo Canyon on U.S. 189, drive through Provo Canyon (U.S. 189) then turning west onto Orem 800 North (UT 52), then after 2.4 miles turn right onto State Street (Hwy 89). After 3.8 miles, turn onto Pleasant Grove 100 East (UT 146). Stay on this road for almost five miles, as it turns in Canyon Rd and takes you to the mouth of American Fork Canyon. When the road ends, turn right into the canyon (UT92) and drive up the canyon to the visitor center.

An alternate way to travel from U.S. 40 then U.S. 189, take State Highway 92, passing by Sundance Resort and over the mountainous yet beautiful route known as the Alpine Scenic Loop. This route is scenic, but takes considerably more time and is not recommended if you are on a tight schedule. Because of the narrow and winding road, buses and large vehicles over thirty feet are not allowed to travel on the Alpine Scenic Loop. The Alpine Scenic Loop is closed during winter.
Using a GPS is not always accurate, as it sometimes directs through the Scenic Loop, which takes longer.
Public Transportation
There is no public transportation to or in the monument.

Getting Around
Utah Highway 92 runs east and west through the monument. Personal vehicles, bicycles, walking, and hiking are means of transportation at the monument.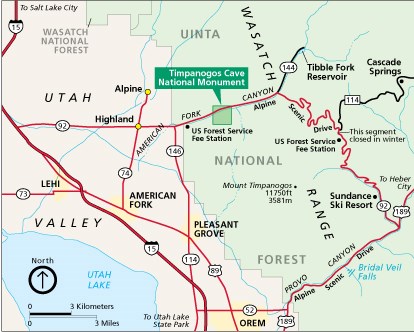 Last updated: April 2, 2020