Weddings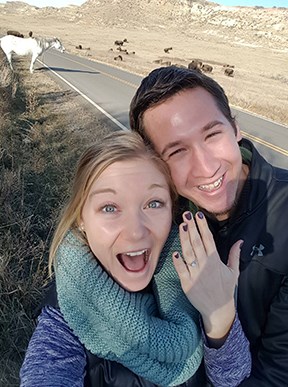 Congratulations, Love Birds!
Let the wedding planning begin...

The park provides a gorgeous backdrop for a wedding, but planning a wedding in a National Park comes with a few extra considerations.

Advanced coordination and planning is required for large weddings in the park. Depending on the number of participants and the location, an NPS ranger-monitor(s) may be required during all stages of the wedding, including set-up and take-down. Monitoring fees will apply. In some cases and locations, the park may not be able to accommodate exceptionally large weddings.

If the park is your chosen venue, you will need to submit an Application for a Special Use Permit (830k docx) along with a $50 application fee at least four weeks prior to your event. Once the permit has been approved and issued, it will be sent to you by mail.

If you have any questions about hosting a wedding in the park or how to apply for a Special Use Permit, please contact the Special Use Coordinator by calling 701-623-4466.
Keep in Mind the Following as you Plan your Wedding
The total number of guests/participants is limited to 100 unless the wedding is held in a group campsite.

Except campsites, areas of the park cannot be reserved for exclusive use of a wedding party. This means you cannot prohibit other visitors from using the area you have chosen for your ceremony.

All participants' vehicles must be parked in designated parking areas. Parking spots cannot be reserved for wedding attendees, so you will need to choose a location with a parking lot large enough accommodate all your guests' vehicles in addition to the vehicles of other visitors who happen to also be at your chosen site.

Public address systems (speakers, bullhorns, etc.) and amplified music are not permitted. Acoustical instruments are welcome.

To protect wildlife, throwing of confetti, rice, or birdseed, and the release of birds, butterflies, or balloons are prohibited.

Decorations cannot be tied to plants/trees or structures. (But who needs streamers anyway when you've got the beauty of the Little Missouri Badlands as the backdrop to your wedding?)
Entrance Fees for Wedding Parties
Normal entrance fees are charged for all wedding participants and guests as they pass through a park entrance station. Lump sum or advance payments cannot be accepted.
Last updated: February 15, 2023