Safety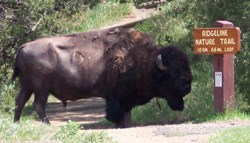 Animals
All animals in the park are wild and unpredictable. View them from a safe distance. Bison and other large mammals inhabit the park. They generally appear tranquil, but may attack without warning if they are disturbed.
Feeding animals of any kind is prohibited.
Rattlesnakes are present in the park. They do not always give a warning before striking. Be alert while walking, and do not put your hands or feet in a place you cannot see. Rattlesnakes and black widow spiders often live in prairie dog burrows.
Driving
Speed limits are posted and enforced on park roads. Drive cautiously; winding park roads and abundant wildlife may yield unexpected surprises. Use extra caution while driving at night.
Weather
Weather in the North Dakota badlands is harsh, with extremes in temperature and sudden, violent storms. Be prepared for rapidly changing conditions. Click here for more information on weather and climate in the park.
Hiking
Hikers are advised to stay on established trails. Detailed maps are available for sale at the park visitor centers. Climbing on the steep slopes in the badlands can be dangerous, especially when wet. Slippery clays and soft sediments can yield underfoot.
Watch for poison ivy in wet areas and for ticks in late spring and early summer.
Get drinking water only from approved sources. Backcountry hikers should plan to carry all the water they will need for their entire itinerary; water sources are limited in the backcountry. Water taken from all natural sources must be treated or boiled before use.
Backcountry campers are required to register at the South Unit Visitor Center or North Unit Visitor Center. There is no fee for backcountry camping permits.
Trail Safety at TRNP

Ranger Lincoln share tips for hiking in Theodore Roosevelt National Park
Last updated: June 5, 2020