Directions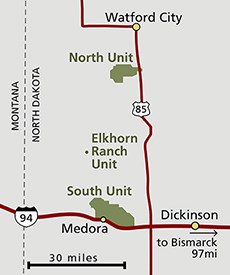 The park is comprised of three areas: South Unit, North Unit and Elkhorn Ranch Unit. The park's two most visited units, the North and South Units, are separated by a 1 hour and 10 minute drive.

If you're not sure which unit(s) of the park you want to visit, you start here.
South Unit
The South Unit is 133 miles west of Bismarck, ND and 27 miles east of the Montana state line.

The South Unit entrance is located in the town of Medora, ND and accessed via Interstate 94, exits 24 and 27. The South Unit visitor center is just inside the park entrance in Medora.

The South Unit's Painted Canyon Visitor Center is located 7 miles east of Medora at exit 32 off of Interstate 94.

For GPS directions to the South Unit park entrance in Medora, use this address:
201 East River Road North
Medora, ND 58645
North Unit
The North Unit entrance is on U.S. Highway 85, approximately 14 miles south of Watford City, ND and 50 miles north of Belfield, ND. From I-94, take U.S. Highway 85 north at Exit 42 in Belfield, ND.

For GPS directions to the North Unit, use this address:
208 Scenic Drive
Watford City, ND 58854
Elkhorn Ranch Unit
Follow directions carefully to the park's most remote unit, accesssed by gravel roads. The last three miles of the route sometimes require 4-wheel drive and/or a high-clearance vehicle, especially in winter or during and after rain showers. Inquire about current road conditions at park visitor centers before you embark. Go directly to the Elkhorn Ranch Unit page for a map and driving directions.
Seasonal Road Closures
Park roads or highways outside of the park may be closed in winter due to snow or icy conditions. Check the current park road status and North Dakota highway status prior to your visit.
Last updated: April 8, 2019