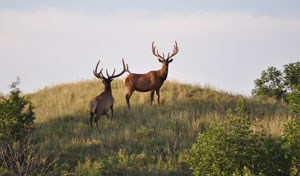 History of Elk in North Dakota
Elk (cervus elaphus) once thrived across the plains and mountains of North America. Common in the Dakota Badlands, elk were a staple game food for early civilizations. When Theodore Roosevelt arrived to the Badlands in the 1880s, few elk were left in this area of the country.
Although Roosevelt named his Elkhorn Ranch after the interlocking antlers found at the site, living animals were hard to find. "This stately and splendid deer, the lordliest of its kind… is now fast vanishing," he wrote in the 1880s. By the end of the century, elk were no longer found in the Badlands.
In an effort to reestablish the native ecology, Theodore Roosevelt National Park reintroduced elk to the South Unit in 1985. The original animals were transferred from Wind Cave National Park in South Dakota. Since that time, the park has monitored and managed the elk population within the park boundary.
Elk Management Program
Without natural predators in the ecosystem, it was expected that elk would overpopulate the park. A management program was designed with the following goals:
Research elk movement and distribution

Manage population dynamics

Monitor consumption rates