The US Army and the Sioux - Part 4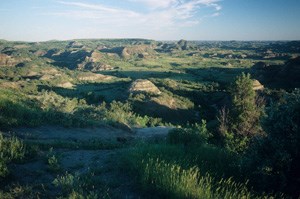 Prelude to Little Bighorn: Terry and Custer in the Badlands
Winter's ferocity held General Alfred Terry in Fort Lincoln in Mandan until May. Terry, with Lt. Col. George A. Custer, departed Fort Lincoln on May 17, 1876 to begin their campaign against the Sioux, more or less following General Sully's trail from 12 years prior. While negotiating the terrain around the badlands, Custer was in charge of scouting the trail. Custer had a habit of getting too far ahead of Terry, who complained that they were wasting time and energy backtracking. Custer tended to show indifference to Terry's superiority. For his part, Custer was lucky to have a command at all after recently causing headaches for President Grant in Washington.
General Terry's troops camped three miles south of modern Belfield, ND on May 26, and got their first view of the badlands the next day. Terry wrote to his sister, "I cannot attempt any description of 'the bad lands.' They are so utterly unlike anything which you have ever seen that no description of them could convey to you any ideas of what they are like. Horribly bare and desolate in general & yet picturesque at times to the extreme."
On May 29, 1876, Terry, Custer, and their troops camped just three miles south of present-day Medora, ND. Terry had expected to encounter the Sioux along the Little Missouri River, but found no sign of them. The troops took an extra day's rest at their camp on the Little Missouri.
Custer wrote to his wife Libby, "We found the Little Missouri River so crooked and the Bad Lands so impassable that in marching fifty miles today we forded the river thirty-four times. The bottom is quicksand. Many of the horses went down frequently tumbling their riders into the water; but all were in good spirits, and every one laughed at every one else's mishaps."
By June 1, 1876, the weather changed to rain, then sleet, then snow. Terry and Custer's troops were laid over near Square Butte, very near where Gen. Sully had fought with the Sioux twelve years prior. There they shivered and waited until June 3 before proceeding west out of the badlands and into Montana.
On June 25, 1876, less than a month after passing through the badlands adjacent to today's Theodore Roosevelt National Park, Custer was killed alongside 262 of his troops at the Battle of Little Bighorn. A crushing and embarrassing defeat for the Army, it was the last major victory for Plains Indian people against the U.S. Army. Following the disaster at Little Bighorn, the various bands that had gathered there split up. The United States, responding to public outcry, was re-energized to bring an end to decades of conflict. For his part, Sitting Bull escaped to Canada and held out until his surrender on July 19, 1881.
Visitors to Theodore Roosevelt National Park may be interested in side trips to sites related to the Sully and Terry/Custer expeditions. Brochures printed by the U.S. Forest Service for the Custer Trail Auto Tour are available in park visitor centers. Visitors may also contact the U.S. Forest Service Dakota Prairie Grasslands Office directly for more information about the Custer Trail Auto Tour. Initial Rock, a sandstone boulder along the tour, has the initials of two of the privates (W.C. Williams from Company H and F. Neely from Company M) that were part of Custer's ill-fated expedition. A monument at the Killdeer Mountains battle site is located near Killdeer, ND.
Sources:
Chorne, Laudie J. Following the Custer Trail.
Trails West. Bismarck, ND. 1997. Print.
Kelly, Fanny. Narrative of my captivity among the Sioux Indians.
Mutual Publishing Company. Hartford, CT. 1871. Print.
Kingsbury, Lt. David L. Sully's Expedition Against the Sioux in 1864.
Reprinted in Minnesota Historical Society Collections. 1898? Original printing date unknown.
Michno, Gregory F. Encyclopedia of Indian Wars: Western Battles and Skirmishes, 1850-1890.
Mountain Press Publishing Company. Missoula, MT. 2003. Print.
USDA Forest Service. Custer Trail Auto Tour.
U.S. Government Printing Office. 2006. Pamphlet.
Utley, Robert M. Frontier Regulars: The United States Army and the Indian, 1866 - 1891.
University of Nebraska Press. Lincoln, NE. 1973. Print.
Vestal, Stanley. Sitting Bull: Champion of the Sioux
University of Oklahoma Press. 1980. Original printing 1932 by Houghton Mifflin Company. Print.
Return to History & Culture - People.
Last updated: April 10, 2015