Sylvane Ferris & Bill Merrifield
"The only security he had for his money was our honesty." -Sylvane Ferris, on Theodore Roosevelt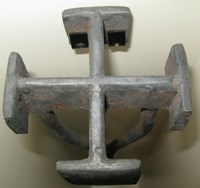 Sylvane Ferris and Bill Merrifield were ranch hands at the Maltese Cross Ranch when Theodore Roosevelt first arrived in the badlands in 1883. Originally from New Brunswick, Canada, the two cowboys were tending a herd of 150 head of cattle on shares for investors from Minnesota, a common practice in those days. Merrifield made extra money by providing passenger trains with fresh venison. Both were known for being simple, quiet, and tough men.
Ferris and Merrifield were understandably skeptical of Roosevelt upon meeting him as he prepared for his initial buffalo hunting trip. Roosevelt wanted to borrow a horse for his hunting excursion. The cowboys knew nothing of the outsider, did not trust anyone who wore spectacles, and certainly did not want to loan a horse to a man they had only just met. For all they knew, the dude would ride off with their valuable horse. They finally agreed to loan the horse, but only after Roosevelt offered to buy the horse instead.
During his hunting expedition, Roosevelt held lengthy conversations about cattle ranching with another newcomer to the badlands, Gregor Lang, before deciding to invest in his own ranch. Roosevelt asked Lang to tend his cattle, but Lang politely refused and suggested Sylvane Ferris and Bill Merrifield would be good ranch hands instead.
Shortly thereafter, Roosevelt, Ferris, and Merrifield met in Lang's cabin to discuss the proposition. Roosevelt offered to buy the cattle the men were already tending and handed over a check for $14,000. Merrifield later recalled that when he asked Roosevelt if he wanted a receipt, Roosevelt said, "Oh, that's all right."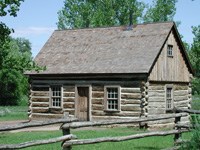 The two cowboys set to work building the Maltese Cross Cabin during the winter of 1883-1884. Following the death of his wife Alice on February 14, 1884, Roosevelt invested in a second ranch, the Elkhorn, and hired two trusted Maine woodsmen to run it, Bill Sewall and Wilmot Dow. Roosevelt preferred the Elkhorn, which he called his "home ranch," which might have come as a disappointment to Ferris and Merrifield. When Roosevelt visited the Maltese Cross Ranch, Ferris and Merrifield would climb up into the attic to sleep at night, giving Roosevelt ample living space and a private bedroom on the main floor.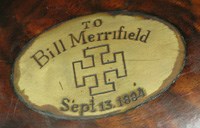 Ferris and Merrifield were capable ranch hands. In the spring, they were busy with the round-up, as range cattle from all over the area were brought together and sorted out to be counted, branded, and sold. As Roosevelt's representatives, they were periodically sent to Minnesota to buy more cattle for Roosevelt's ranches as TR added $82,500 to his original investment of $14,000 between 1884 and 1885. Roosevelt trusted their judgment in all matters of managing the cattle ranch, including selling some of the livestock at their discretion. They were also the ranch hands who stayed on the longest, tending the remainder of Roosevelt's cattle after the Elkhorn Ranch closed in 1887. The two men worked together until Merrifield quit in 1892. Ferris continued on alone until Roosevelt finally sold out in 1898. Sylvane and his brother Joe Ferris were two of a handful of residents that remained in Medora after the cattle ranching collapse of 1887.
Though the cattle ranching boom is a distant memory, the handiwork of Ferris and Merrifield lives on in the form of the Maltese Cross Cabin. If it had not been for them, Roosevelt might not have procured the horse for his thrilling hunting trip, and Roosevelt might not have found someone to run a cattle ranch for him. No one else showed much trust in Roosevelt. In a way, Ferris and Merrifield's cooperation with Roosevelt allowed him to have an experience that, in the end, was very influential in the young politician's life, philosophy, and politics.
A rifle given as a gift to Bill Merrifield from Theodore Roosevelt commemorating an 1884 hunting trip in the Bighorn Mountains of Wyoming is on display at the South Unit Visitor Center. The Maltese Cross Cabin, which Ferris and Merrifield constructed, is open for public viewing year-round.
Last updated: April 10, 2015