People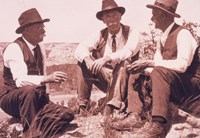 Theodore Roosevelt National Park was established to memorialize this area's importance in Theodore Roosevelt's life and the key role it played in fostering his conservation ethics. While visiting the badlands for the first time in 1883, Roosevelt fell in love with the rugged landscape and became interested in the new business of cattle ranching. After talking with local ranchers, he decided to invest in a local cattle operation known as the Maltese Cross. His partners in the ranch were Sylvane Ferris and Bill Merrifield.
The next summer, following the death of his wife and mother in February, Roosevelt returned to the badlands. During his stay, he started a second ranching operation called the Elkhorn Ranch. He hired two acquaintances from Maine, Bill Sewall and Wilmot Dow, to run the ranch. After its creation, Roosevelt considered Elkhorn to be his "home ranch" and spent most of his time there whenever he was in Dakota.
While Roosevelt was starting his ranching operations in the Dakota Territory, a French nobleman known as the Marquis de Morès was establishing the town of Medora, which he named after his wife. His dream of a meat packing empire proved ill-fated, but the town he founded survived.
Long before the cattle ranching period in the late-19th century, the badlands were utilized by a number of traditional peoples including the Mandan, Hidatsa, Crow, and many others. The Cultural History of the park extends back thousands of years. At the end of the 19th century, conflict between the US Army and the Sioux brought war to the badlands and involved many well-known historical figures: Sully, Custer, Sitting Bull, Inkpaduta, and Gall.
In the 20th century, the Civilian Conservation Corps performed work still visible today in the North and South Units of Theodore Roosevelt National Park.
Last updated: April 10, 2015