Marquis de Morès
"I shall be the richest financier in the world!" - Marquis de Mores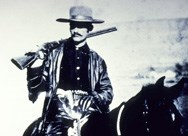 The Entrepreneur
Antoine Amédée Marie Vincent Manca de Vallambrosa, more often called by his title, the Marquis de Morès, was an entrepreneurial Frenchman and a key player in the North Dakota badlands in the 1880s, coincident with Theodore Roosevelt's ranching days. The Marquis was as well known for grandiose moneymaking schemes as for his skill as a rifleman. His wife, Medora Von Hoffman, the daughter of a wealthy Wall Street banker of German descent, was the source of his wealth. Using the wealth of the Von Hoffmans, he founded a meatpacking industry on the Northern Great Plains that he theorized would result in higher quality meat at lower prices for consumers.
On April 1, 1883, the Marquis de Morès claimed a six square mile area of Little Missouri river bottom and founded the town of Medora, which he named after his wife. He founded his town intentionally close to the lawless settlement of Little Missouri as an affront to its unwelcoming residents. He built a slaughterhouse, or abbatoir, where cattle and other livestock could be slaughtered, dressed, and loaded onto refrigerated rail cars and shipped to markets in the east. As his economic theory went, cattle that came straight off the range to slaughter would be of higher quality than those who were shipped live by train to the Chicago stockyards, losing weight while in transit. The business intended to capitalize on the booming cattle ranching industry in the Dakota Territory in the 1880s. For a variety of reasons, including a lack of attention by the Marquis as he continually looked for new investments and his legal troubles stemming from the shooting of Riley Luffsey, the de Morès meatpacking empire never saw its full potential before it closed in 1886.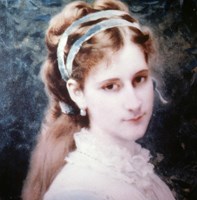 Disagreements with Theodore Roosevelt
The Marquis de Morès and Theodore Roosevelt were two men with extraordinarily large personalities, and, although relations between them were generally cordial, they occasionally clashed. Twice, they had disagreements over land rights, and once Roosevelt backed out of the sale of some of his cattle when the Marquis lowered the price per pound from the agreed upon 6¢ to 5.5¢. While the Marquis was in jail during his trial for the killing of Riley Luffsey (he was later acquitted), he shot a letter to Roosevelt on September 3, 1885 that expressed concern that Roosevelt's employee and friend Joe Ferris had been "very active against me and has been instrumental in getting me indicted," and asked "Is this done by your order?" The letter closed with the threat, "If you are my enemy I want to know it...between gentlemen it is easy to settle matters of that sort directly."
Roosevelt, in fact, had not acted against the Marquis, but if he could not convince the Marquis of his innocence, the disagreement might very well have been settled in a duel, implied by the word "directly," in the Marquis's letter. Privately, Bill Sewall offered to be Roosevelt's second in the duel TR wanted to avoid. Carefully, TR wrote back to the Marquis, "Most emphatically I am not your enemy; if I were you would know it, for I would be an open one, and would not have asked you to my house nor gone to yours." TR closed that he was "ever ready to hold myself accountable for anything I have said or done." TR's tactful response cooled tensions between the two giants of Medora. The Marquis backed out of any direct confrontation with Roosevelt.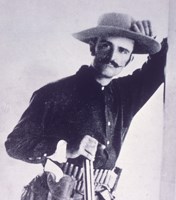 Legacy
The Marquis's influence on Medora has been lasting, though his attitudes and actions serve to highlight how popular Theodore Roosevelt was with the people by comparison. The Marquis tended to use his wealth to inflict his will on people whether or not they agreed with him. He founded his own town to spite the settlers who did not like him, and was one of the first in the area to put up barbed wire fences, which irked free range cattlemen. Theodore Roosevelt showed more concern for the area and its people, organizing Medora's first Stockmen's Association, dealing fairly with the locals, and pursuing justice as deputy sheriff. Despite their differences, the Marquis de Morès's legacy is not that of an antagonist to Roosevelt, but of a bold dreamer who embodied the spirit of the Wild West.
The State Historical Society of North Dakota operates the Chateau de Mores State Historic Site, located near the entrance to Theodore Roosevelt National Park's South Unit in Medora. The site is composed of three separate parts: the Chateau de Mores, De Mores Memorial Park in downtown Medora, and Chimney Park. The Chateau de Mores site includes a visitor center, museum, and guided tours of the Marquis's home. De Mores Memorial Park features a statue of the Marquis. Chimney Park, where a picnic area and ruins of the abbatoir are located, stand as a quiet reminder of the Marquis's unfulfilled dreams.
Last updated: December 3, 2020